Middle East
US in Syria to plunder country's economic assets: Russia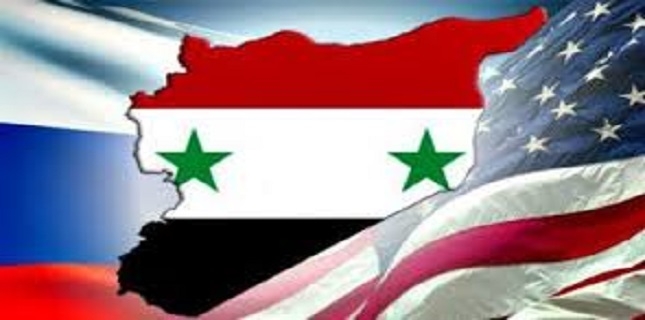 Russia says a recent US attack on pro-Damascus forces proves that Washington is not fighting Daesh but rather it is seeking to plunder Syria's economic assets.
The Russian Defense Ministry said in a statement released on Thursday that the US raid once "again showed that the US is maintaining its illegal presence in Syria not to fight the Daesh group, but to seize and hold Syrian economic assets."
The US military said on Wednesday it had killed at least 100 pro-Damascus fighters to allegedly fend off an attack on the so-called Syrian Democratic Forces (SDF) in Syria's eastern Dayr al-Zawr Province.
Syria's official SANA news agency described the US "aggression" as an "attempt to support terrorism."
The Russian Defense Ministry said the Syrian forces were carrying out an anti-Daesh operation near the al-Isba oil refinery in Dayr al Zawr when they were targeted by US aircraft.
The US and its allies back militants fighting to topple the Syrian government. They have also been bombarding what they call Daesh positions inside Syria since September 2014 without any authorization from the Damascus government or a UN mandate.
The strikes, however, have on many occasions resulted in civilian casualties and failed to fulfill their declared aim of countering terrorism.
US safe zone used by Daesh: Zakharova
Additionally on Thursday, Russian Foreign Ministry spokeswoman Maria Zakharova told reporters in Moscow that "a 55-kilometer zone unilaterally created by the Americans around their military base" near the southeastern Syrian town of al-Tanf gives Daesh elements the opportunity to hide, regroup and prepare new raids.
She said the US presence remains "a serious challenge to the promotion of peace in Syria and protection of its unity and territorial integrity."
"Some influential external players are apparently not using the opportunities they have to promote a political settlement in Syria and facilitate the elimination of terrorists on the Syrian soil," Zakharova added.
Russia trying to identify weapon manufacturer
The Russian diplomat further referred to the downing of a Russian fighter jet in the militant-held northwestern Syrian province of Idlib on Saturday. The aircraft was hit by a projectile fired from a shoulder-launched anti-aircraft known as MANPAD.
She said that a test is underway to identify the manufacturer of the system that downed the jet, stressing that such weapons could not fall into the hands of terrorists "unless they had serious foreign support."