Middle East
Tahrir Al-Sham Terrorists Down Syrian Jet, Behead Pilot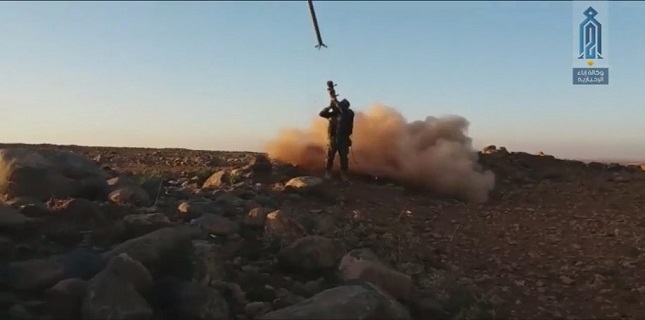 Hayat Tahrir al-Sham, Syria branch of al-Qaeda, has shot down a Syrian army's jet in northern Hama province on Tuesday.
Syrian army confirmed its warplane, a combat-modified version on the Czech-built L-39 trainer, was downed in northern Hama province where it was engaged over the skies of Hama province whilst it was on a sortie to attack terrorist forces in the region. The Jet's pilot was killed.
The terrorist group –rebranded from al-Nusra Front – published a video clip showing its fighters using a Strela shoulder-fired anti-aircraft missile to knock-out the Syrian warplane.
The Syrian pilot in the aircraft reportedly survived the crash. But terrorists captured and executed him, al-Masdar new reported.
Raw footage filmed and published by Tahrir al-Sham terrorists showed the captured pilot dumped in a pickup truck with his head dangling and covered with blood.
The disturbing footage might well indicate that the pilot was executed – probably beheaded given the fact that blood was coming out only from his neck – after being captured alive.
"This is the moment we [the jihadists] killed the Syrian Army pilot in Um Haratain village", says one of the masked militants in the video.