Middle East
Turkey raps Saudi-led bloc for targeting Islamic body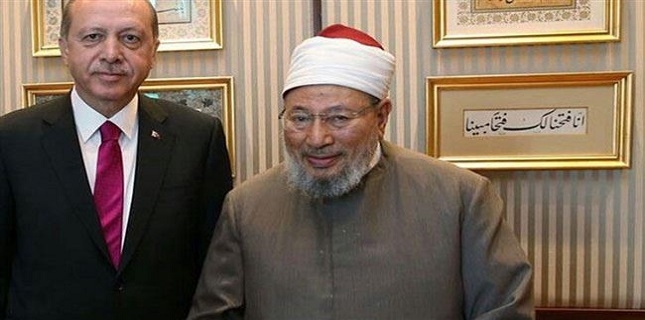 Turkey has protested a move by a Saudi Arabian-led bloc that has targeted Qatar with a diplomatic and economic war to add a high-profile Doha-based Islamic organization to a "terror blacklist."
Saudi Arabia, the United Arab Emirates, Bahrain, and Egypt, which turned on Doha back in June, announced the blacklisting of the Doha-headquartered International Union of Muslim Scholars, which is headed by prominent Egyptian scholar Yusuf al-Qaradawi, in a statement on Thursday.
They also blacklisted the Cairo-based International Islamic Council for Da'wah and Relief, which seeks to promote Islamic teachings.
The NGOs, the statement said, were "working to promote terrorism through the exploitation of Islamic discourse and its use as a cover to facilitate various terrorist activities."
'An anti-Islamic agenda'
The Turkish Foreign Ministry on Friday protested the Saudi-led bloc's blacklisting of the International Union of Muslim Scholars, calling it "woeful," Turkey's Anadolu news agency reported.
"As the term chairman of the Organization of Islamic Cooperation, we consider this decision as a serious mistake, which will serve an anti-Islamic environment," it said.
The ministry asked the bloc to reconsider its decision and "give necessary respect" to the International Union of Muslim Scholars.The Saudi-led quartet of countries targeting Qatar have accused it of "sponsoring terror."
Doha rejects that allegation and points to Saudi Arabia's political agenda as the real reason behind the dispute.
On Monday, Qatar's Foreign Minister Sheikh Mohammed bin Abdulrahman Al Thani said the Saudi-led countries were involved in repression at home and subversion abroad.
The four countries, he said, "silencing dissenters, creating humanitarian crises, shutting down communications, manipulating financial markets, bullying smaller nations, blackmailing, fracturing governments, terrorizing citizens, strong arming the leaders of other nations and spreading propaganda."