Middle East
Over 90% of Syria retaken from terrorists: President Putin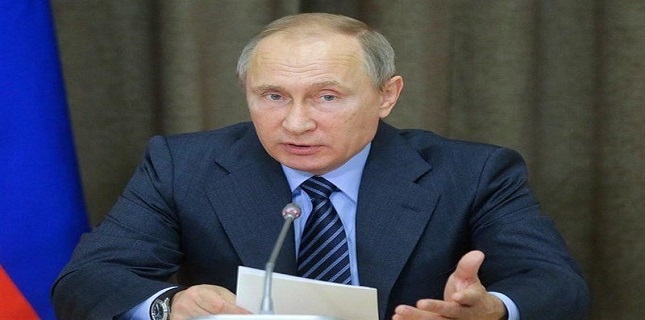 President Vladimir Putin has hailed Russian forces' contribution to Syria's counterterrorism campaign, saying over 90 percent of the Syrian territory has been liberated from the grip of militants.
Speaking on Thursday, Putin thanked Russian military servicemen who are involved in Syria's anti-terror fight, saying they have made a change in the overall situation.
"It was possible to radically reverse the situation thanks to their courage, precise and professional actions and valor, " he said. "More than 90% of Syria's territory is already free from terrorists," he added.
Putin further emphasized that Syria's de-escalation zones have been set up in coordination with Syrian authorities while political settlement and civil reconciliation is gaining momentum in the Arab country.
The four safe zones were coordinated during the intra-Syrian talks, mediated by Iran, Russia and Turkey, in the Kazakh capital Astana.
They cover the provinces of Idlib and Homs as well as the Eastern Ghouta region near Damascus and Syria's southern border with Jordan, which have sharply reduced fighting in the country's conflict-ridden areas.
"Military operations against terrorists, … [who are] are well-equipped, trained and generously sponsored and motivated groups, have shown that the capabilities of the Russian Aerospace Forces, our army and navy have qualitatively increased," Putin said.
Russian jets have been conducting air raids against Daesh and other terrorist groups inside Syria at the Damascus government's request since September 2015.
The airstrikes have helped Syrian forces advance against anti-Damascus militants, who are wreaking havoc in the Middle Eastern state since 2011.
Syrian forces advance against Takfiri elements
Separately on Thursday, Syrian army soldiers and allied fighters managed to wrest control over the T2 oil pumping station in eastern Syria.
A Hezbollah-run news service reported that the fresh gain by Syrian forces had paved the way for their advance towards Daesh's last remaining stronghold in the country.
The pumping station is "considered a launch pad for the Syrian army and its allied fighters to advance towards the town of Abu Kamal, … which is considered the last remaining stronghold of the Daesh organization in Syria," the report added.
Abu Kamal is situated in Syria's eastern Dayr al-Zawr Province. The Syrian town is just over the border from the Iraqi town of al-Qa'im, which is itself the target of a liberation operation by the Iraqi military.
Additionally, a Syrian military source told the official SANA news agency on Thursday that the pro-government forces had regained control over the Huweijit Saqar district in the city of Dayr al-Zawr.
The fresh gains came following clashes with Daesh terrorists that left scores of them dead and destroyed their fortified positions.