Middle East
UK signs arms deal with Qatar after US jet sales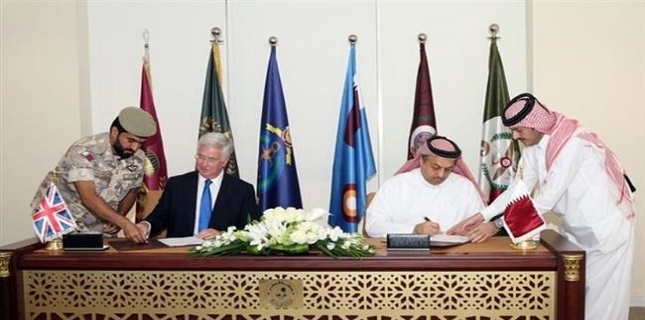 The UK has signed a major military deal to sell Qatar 24 Eurofighter Typhoon jets amid accusations that the West is exploiting a diplomatic row among the Persian Gulf Arab states for its own profit.
British Defense Secretary Michael Fallon and his Qatari opposite number Khalid bin Mohammed al-Attiyah signed a "statement of intent" on Sunday that will see British defense giant BAE Systems provide the planes and support capabilities worth billions of dollars.
The Qatar Armed Forces said in a statement on Sunday that the strategic letter of intent agrees to lay the "groundwork for Qatar's intention towards procuring 24 advanced Eurofighter Typhoons and supporting capabilities."
The deal comes amid reports that the US and UK are exploiting the rift between several Arab countries of the Persian Gulf and Qatar through designating both sides as "priority markets" for their arms sales.
The widening rift in the region occurred on June 5, when Saudi Arabia, Bahrain, the United Arab Emirates (UAE) and Egypt severed ties with Qatar over what Doha brands as false claims and assumptions.
"This will be the first major defense contract with Qatar, one of the UK's strategic partners," Fallon said in Doha, where he met with the Qatari defense minister.
"This is an important moment in our defense relationship and the basis for even closer defense cooperation between our two countries," he added.
The deal has been clinched after a lengthy negotiating period. Fallon said the deal had been "on the table" back in March 2016.
It is the second billion-dollar military agreement signed by Doha since the eruption of the crisis between Qatar and the four Arab nations.
Shortly after the dispute erupted, the US signed a $12 billion deal to sell F-15 fighter jets to Qatar even though President Donald Trump accused the tiny nation of supporting terrorism and sided with the Saudi-led bloc facing off against Doha.
The agreement between Qatar and the UK also comes as Britain seeks to boost its post-Brexit economy through striking further trade deals with countries outside Europe.
The deal, however, is expected to further dismay human rights groups, who have slammed the UK over arms exports to Saudi Arabia and other states accused of major human rights violations.
Saudi Arabia is also one of the operators of the Eurofighter Typhoon jets in the Middle East. The kingdom operates at least 72 of the warplanes, which have been used over Yemen amid reports they have contributed to mass civilian casualties.