Middle East
Over 1,000 Civilians Killed in US, SDF Attacks on Raqqa in 3 Months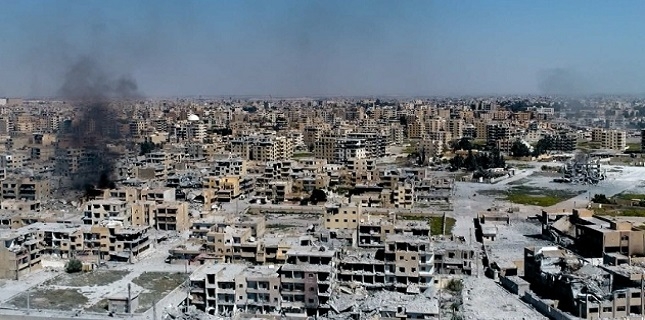 Hundreds of civilians have been killed in the US-led coalition airstrikes and attacks by the predominantly Kurdish Syrian Democratic Forces (SDF) on the city of Raqqa and its outskirts over the past three months, he London-based Syrian Observatory for Human Rights (SOHR) reported.
At least 1,000 civilians have lost their lives in the US-led and SDF attacks in three months, SOHR said.
It noted that the death toll is related to the US-led and SDF raids during June 5-September 11, 2017.
A sum of 166 women and 236 children are among 1007 civilians killed in Raqqa.
In a relevant development in early July, a monitoring group reported that the total number of the civilians killed or wounded in the US-led Coalition airstrikes in Raqqa city in Northeastern Syria is much higher than the figures declared by the US Army officials.
Airwars, a UK-based group that monitors airstrikes and civilian casualties in Iraq, Libya and Syria, reported it has tracked 119 alleged civilian casualty events at Raqqa, claiming up to 770 deaths, between June 6-29.
The United Nations Commissioner for Human Rights warned at least 173 civilians have been killed by air and ground strikes in Raqqa since June 1, saying this is "likely a conservative estimate and the real death toll may be much higher."
In June, the UN's chair of the Independent International Commission of Inquiry on Syria, Paulo Pinheiro, warned the UN Human Rights Council that the fight in Raqqa shouldn't be "at the expense of civilians," saying it is "gravely concerned with the mounting number of civilians who perish during airstrikes."
Pinheiro said the airstrikes had resulted in a "staggering loss of life."