Middle East
Israel targets Syrian military positions in Golan Heights as Netanyahu visits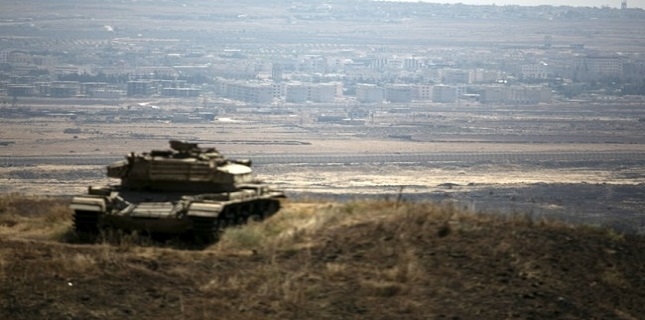 The Israeli military says it targeted a Syrian army position after errant mortar fire landed in the occupied Golan Heights during a visit by Israeli Prime Minister Benjamin Netanyahu to the region.
The Israeli army said on Wednesday that a shell had landed in northern Golan Heights without causing any damage or casualties.
We "targeted the Syrian military position that fired the mortar," it said in a statement. The stray shell reportedly landed as Netanyahu was visiting a nearby town.
"While I was speaking, I said here that we will not tolerate errant shooting and we will respond to all firing. During my speech, there was errant fire from the Syrian side that landed in our territory and the army has already attacked," the Israeli prime minister claimed.
This is the third time Israel has hit Syrian positions this week, claiming that the attacks were in response to Syrian mortar fire.
On Sunday, the Israeli military carried out a string of aerial assaults against the positions of the Syrian government forces in the Golan Heights, just one day after Israeli fighter jets carried out a series of airstrikes against a number of Syrian army targets near the area.
On Monday, Syria's army warned Israel against "serious repercussions" of further attacks on the Arab country following the air raids.
The border separating Syria and the Israeli-occupied part of the Golan Heights has been tense since foreign-backed militancy gripped the Arab country in 2011, claiming the lives of hundreds of thousands of people so far.
During the past few years, Israel has frequently attacked military targets in Syria in what is considered as an attempt to prop up terrorist groups that have been suffering heavy defeats at the hands of the Syrian military.
Damascus says Israel and its Western and regional allies are aiding Takfiri terrorist groups operating inside the Arab country, while the regime's military carries out such sporadic strikes against Syrian government forces. The Israeli regime has even set up field hospitals to treat wounded militants evacuated from Syria.