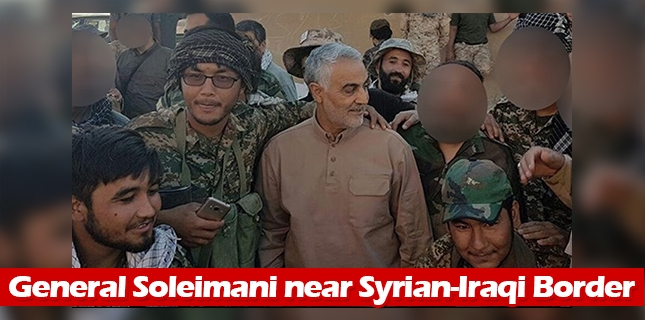 ShiiteNews:The Commander of Iran's Islamic Revolution Guards Corps (IRGC) Quds Force Major General Qassem Soleimani has been sighted with advancing Syria and allied forces near the Iraqi border.
Major General Soleimani, who is on an advisory mission in Syria, was with the Fatemiyoun's forces assisting Syrian forces in the war on terror across the country.
The Fatemiyoun Brigade, an all-Afghan unit defending the Holy Shrine of Sayyada Zeynab (SA) against Takfiri terrorists in Syria, has made major advances in the war-torn country.
In collaboration with Syrian government forces, the brigade has reached the common borders with Iraq routing Takfiri terrorists on the war.
The Syrian army and allies had reached the border with Iraq in northeastern Tanaf and on the other hand, Iraq's Popular Mobilization Forces (PMF) have also dealt heavy blows to ISIS terrorists and liberated al-Baaj town near Syria border. While the Iraqi armed forces have launched large-scale operation to liberate last three remaining districts of western Mosul from ISIS, The PMF have been charged with expelling ISIS from areas west of Mosul, all the way to the Syrian border.
In a statement on Sunday, Syrian army announced the arrival of the country's army and its allies at the Iraqi border and control of vast swathes of the Syria's Badia region form a strategic turning point in the war on terror.
Iran has sent military advisers to Syria and Iraq to contribute to the fight against terrorists wreaking havoc in these two conflict-stricken Arab countries.