Middle East
Syrian army crosses into Raqqah province, captures two villages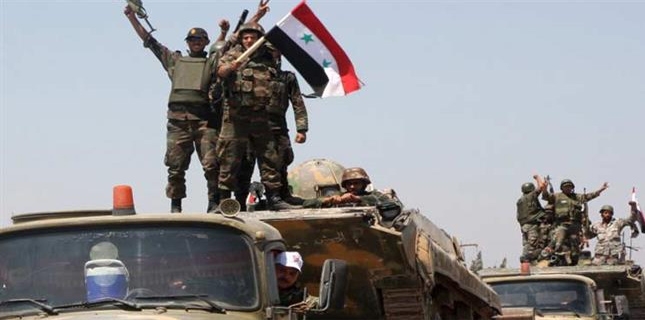 As the battle for the liberation of areas held by terrorists goes on, the Syrian army has crossed into the province of Raqqah and retaken two villages from the Daesh Takfiri terrorists.
The so-called Syrian Observatory for Human Rights said Syrian forces had recaptured two villages of Kharbah Mohsen and Beir al-Saba on their way toward Raqqah city. The villages are about 80 kilometers from Raqqah and are located seven kilometers south of the main road linking Raqqah and Aleppo in northwestern Syria.
Syrian forces also retook several villages in the south of the city of Maskenah, on the eastern outskirts of Aleppo.
The gains are the latest to come as Syrian forces sweep through towns and cities that were once under the control of militants.
Backed by Hezbollah and other volunteer fighters on the ground and enjoying Russia's air cover, Syria has been making back-to-back gains against militants over the past weeks.
In addition to the Syrian army's advance on Tuesday, the so-called Syrian Democratic Forces, a US-backed alliance of mostly Kurdish and Arab militants, said it had launched an operation aimed at pushing Daesh out of Raqqah.
Talal Sillo, an SDF spokesman, said the operation had begun the "great leap" towards Raqqah in coordination with the US-led coalition purportedly fighting Daesh in Syria and neighboring Iraq.