Middle East
Russian, Syrian troops celebrate Victory Day in Hmeymim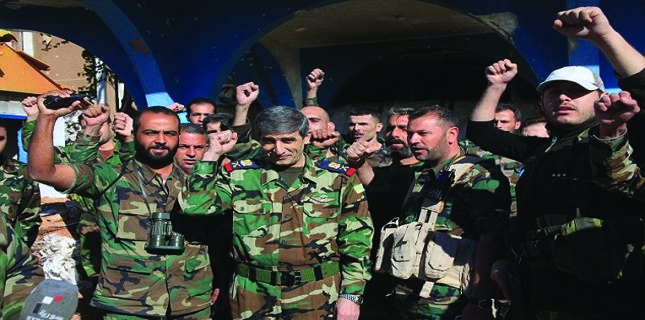 Russian and Syrian troops deployed to Hmeymim air base in northwestern Syria have held a ceremony to mark the historic occasion of the Soviet Union's victory over Nazi Germany.
The occasion, known as the Victory Day, was marked on Tuesday, when the Russian and Syrian military personnel held a parade, carrying Victory Banner, a symbol of fascism's defeat in the Great Patriotic War.
Fighter jets, military vehicles, artillery units and armored personnel carriers also took part in the parade.
The Victory Day celebrations at Hmeymim, the base from which Russian jets scramble to launch attacks against positions of militants in Syria, also marked the deepening cooperation between the military forces of Syria and Russia.
The Russian military started an air campaign against militants in Syria in September 2015 after Damascus submitted an official request.
Russia has faced criticism from the West over the military presence in Syria although it defends the campaign, saying it is necessary to prevent the return of Russian nationals who have joined militant groups in Syria over the past years.
Thousands of Russians are believed to be fighting within the ranks of Takfiri terrorist groups in Syria and neighboring Iraq.
Damascus has hugely benefited from Russia's assistance, especially in the north of the country where the Syrian military managed to purge the key city of Aleppo from militants late last year.
Russian jets have also carried out numerous sorties against positions of the Daesh Takfiri terrorist group in eastern Syria.
Syria blames more than six years of militancy, which has left hundreds of thousands of people dead, on foreign governments, naming Turkey, Saudi Arabia and Qatar as the main culprits.
United Nations Special Envoy for Syria Staffan de Mistura estimated in August last year that more than 400,000 people had been killed in the war in Syria until then. The UN stopped its official casualty count in the war-torn country, citing its inability to verify the figures it received from various sources.