Middle East
Russia confirms militants used chemical weapons in Aleppo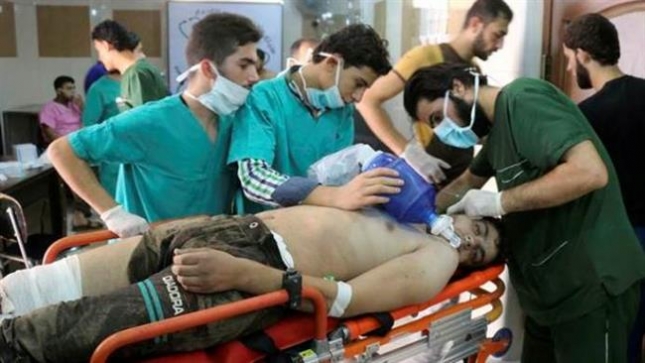 The Russian Defense Ministry confirms that militants in the northern Syrian city of Aleppo have carried out a chemical attack on members of the Syrian army.
"Terrorists in Aleppo are using chlorine against Syrian servicemen and civilians ever more frequently," Russian Defense Ministry spokesman Igor Konashenkov said in a Monday statement, adding that at least 30 Syrian servicemen had been affected in the attack in eastern Aleppo on Sunday.
Konashenkov criticized Western governments, especially France and Britain, for keeping silent on crimes committed by militants in Aleppo, saying that those governments only insist on blaming the Syrian government and its allies for the continued bloodshed in the war-torn city.
"To be more exact, they want to see only Syrian authorities as the culprits," he said.
The West toughened its rhetoric on Russia over the country's involvement in the Syrian conflict when Russian Air Force intensified attacks on the militant-held part of Aleppo last month. The Westerners accused Russia of committing war crimes, alleging Moscow targeted civilians.
He said that Russian specialists working for a watchdog in Syria have detected samples from eastern parts of Aleppo, which indicate militants had attacked Syrian troops in Aleppo using chlorine.
"The samples taken by Russian officers of the Research Center for Radiation, Chemical and Biological Protection on the site confirm the use of chlorine by militants as a chemical warfare agent," Konashenkov said, adding that the Syrian servicemen have also confirmed that they were poisoned by chemical agents after their positions were hit by mine explosions and rockets on Sunday.
He said 30 Syrian soldiers were affected by the attack in Aleppo's eastern district of Karim Jazmati and that most of the servicemen were admitted to a nearby hospital for gas inhalation treatment.
The official also called on the Organization for the Prohibition of Chemical Weapons (OPCW) to immediately send its experts to Aleppo to find the truth about the use of banned agents by militants.
On Friday, the Russian Foreign Ministry also urged the OPCW to send a mission to Aleppo to investigate a separate attack by militants involving chemical weapons.