Middle East
Russian president orders humanitarian pause in Syria's Aleppo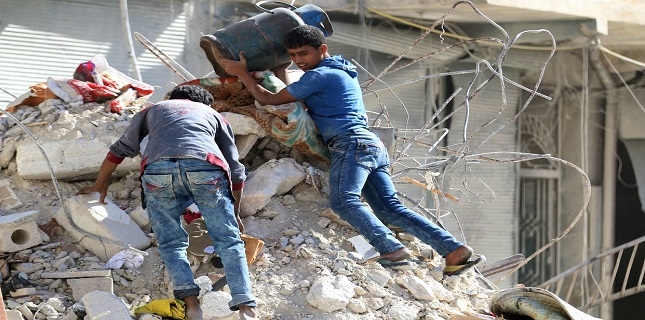 Russia's President Vladimir Putin has ordered a 10-hour humanitarian pause in Aleppo on Friday, calling on the militants operating there to stop fighting and leave the embattled Syrian city.
The humanitarian pause in Aleppo will begin from 9:00 local time to 19:00 on November 4, RT cited the Russian General Staff as saying on Wednesday.
Head of the military's General Staff Valery Gerasimov said the new pause comes after the militants failed to break through the blockade around the northwestern city last week, and refused to accept Moscow's proposal to leave eastern Aleppo through two corridors set up for their exit.
The Russian official said that since the Americans failed to separate terrorist groups from the so-called moderate opposition, "we are addressing all militant leaders directly, urging them to cease hostilities and leave Aleppo with their arms."
"Two corridors will be opened, from which Syrian troops and weapons would be pulled back," he said.
The Russian general said that one of the corridors for the militants leads to the Turkish-Syrian border and another one to the northwestern province of Idlib.
During Friday's pause, six additional corridors will be opened for civilians wishing to leave the city, he said.
A previous attempt to evacuate residents from the besieged city was derailed by militants who shelled the corridor to prevent people from leaving.
A UN-led attempt to provide medical evacuations also failed.
Washington's failure to separate terrorist groups from what it calls moderate opposition had also allowed Jabhat Fateh al-Sham terrorist group, formerly known as al-Nusra Front, to "hide behind other armed groups of the opposition with which Washington is cooperating," according to Russian Foreign Minister Sergei Lavrov.
Aleppo, Syria's second largest city, has been divided between government forces and foreign-backed militants since 2012.
The Syrian army launched operations to reunite the government-held western part and the militant-held eastern section of Aleppo on September 22, with the support of the Russian Air Force.