Middle East
Russia says US playing blame game over failure of Syria ceasefire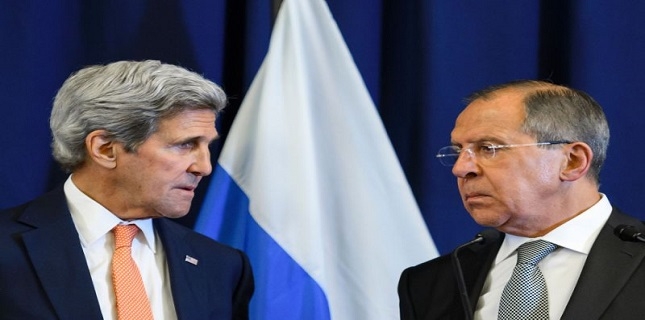 The Russian Foreign Ministry says the United States' decision to halt talks on a ceasefire in Syria is regrettable.
"We regret this decision by Washington to curtail the work of the specialist groups in Geneva to withdraw their experts and to limit contacts only to the area of avoiding any conflicts," said foreign ministry spokeswoman Maria Zakharova (seen below) on Monday.
Earlier, US State Department spokesman John Kirby said that Washington is suspending participation in bilateral channels with Moscow that were established to maintain the cessation of hostilities in the war-torn country.
He also accused Russia of not living up to its commitments under a ceasefire agreement by stepping up airstrikes in the divided city of Aleppo, which has been divided between government forces in the west and the militants in the east since 2012.
Zakharova stressed that Washington was trying to shift responsibility for the ceasefire's failure onto Russia.
"Washington simply did not fulfill the key condition of the agreement to improve the humanitarian condition around Aleppo," she said. "After failing to fulfill the agreements that they themselves worked out, they are trying to shift responsibility on to someone else."
Following the US announcement, United Nations Syria envoy Staffan de Mistura said that he "deeply regrets" the move, while vowing to continue searching for a political solution to the crisis.
"The UN will continue to push energetically for a political solution of the Syrian conflict regardless of the very disappointing outcome of intense and long discussions among two crucial international stakeholders," said a statement released by his office.
Meanwhile, the UN Security Council has announced that it is mulling a resolution over imposing a ceasefire in the Aleppo.
The resolution, drafted by France and presented to the council over the weekend, expresses "outrage over the unacceptable and escalating level of violence," and calls on all parties to immediately execute a ceasefire, permit the entry of humanitarian aid, and ground all aerial activities over the city.
It also calls on the US and Russia to "ensure the immediate implementation of the cessation of hostilities, starting with Aleppo, and to that effect, to put an end to all military flights over the city."
Russia has signaled that it would not endorse the proposal, with Deputy Foreign Minister Gennady Gatilov stating that "We as a matter of principle do not support such politicized steps aimed at using the Security Council to apply more pressure to Syria and Russia."
According to UN estimates, over 400,000 people have died so far in the foreign-sponsored conflict in Syria, which started in March 2011.