Middle East
Jeish Al-Islam Confessed Dozen of Its Commanders Killed in Damascus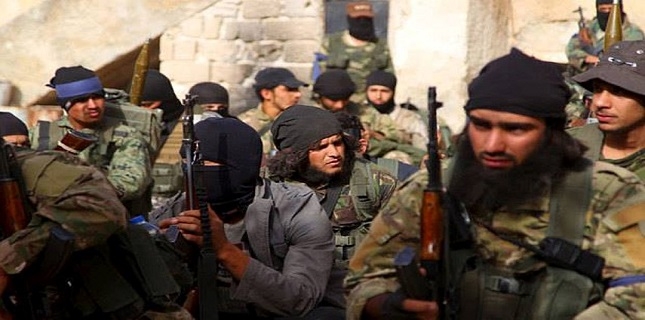 The Jeish al-Islam terrorist group admitted that it has lost dozens of its commanders and forces in al-Rahbat al-Isharah district of al-Reihan town in the Eastern parts of Damascus.
The Syrian army and its allies recently won full control over Rahbat al-Isharah after fierce clashes with the terrorist groups and leaving tens of militants dead and wounded.
As the army completed control over the region, Jeish al-Islam's Spokesman Hamza Beiraqdar acknowledged that the terrorist group has lost dozens of its commander and members in Rahbat al-Isharah battle.
Loss of control over Rahbat al-Isharah was a heavy blow to Jeish al-Islam since the region was a spiritual asset to them.
Zahran Aloush, the founder of the terrorist group, had in late April 2015 staged military exercises in the region and the satellite channels supporting Jeish al-Islam covered the event.
The drills were held in Katiba al-Isharah region in al-Reihan which is now under the control of the Syrian army.
Earlier reports said on Wednesday that the Syrian Army troops and National Defense Forces (NDF) continued to advance against Jeish al-Islam in the Northeastern side of the militant-held town of Douma in Eastern Ghouta, claiming the lives of scores of terrorists.
Syrian Government forces, after hours of non-stop battle, pushed Jeish al-Islam back from farms between al-Reihan and Tal Kurdi in the Northeastern side of Douma's farms, inflicting tens of casualties on the militants.
Syrian army, in its operation, discovered a long network of tunnels and defused a number of bombs and landmines planted by the terrorists in the region.
On Monday, Syrian military forces continued to beat Jeish al-Islam terrorists back from more positions in al-Reihan region, completing yesterday's advances in Eastern Ghouta.
The army soldiers, after hours of non-stop battle, took back more positions in Rahbat al-Isharah 533 near Douma, leaving several Jeish al-Islam fighters dead or wounded.
Jeish al-Islam has confirmed withdrawal from Rahbat al-Isharah533.
In the meantime, media sources said that the Syrian army has advanced against militants in Qudsiyeh in Damascus countryside near al-Dimas pharm company.