Middle East
Aleppo attacks proof of Western hypocrisy in battling terror: Syria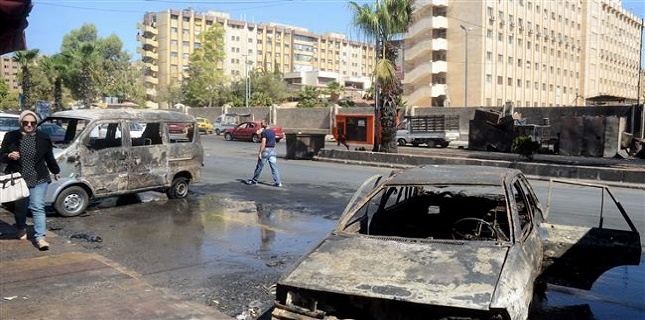 Damascus says that continuous attacks on residential areas in Aleppo are proof of the hypocrisy of the countries claiming to be battling terrorism in Syria.
In a letter sent to UN Secretary General Ban Ki-moon and to the UN Security Council, the Syrian Foreign Ministry also accused several regional countries of supporting the terrorists, Syria's official SANA news agency reported on Saturday.
"In continuation of the policies of destruction and hatred which are sponsored by specific countries and regimes including Saudi Arabia, Qatar, and Turkey, the armed terrorist groups which are supported and funded by external sides continued targeting the residential neighborhoods in Aleppo city with various explosive and rocket shells … without any consideration for the sanctity of Eid al-Fitr holiday in blatant violations of the truce agreements and the cessation of hostilities," read the statement.
On Friday, at least 30 civilians, including four children, were killed and 140 others sustained injuries as Takfiris fired rockets at the al-Furqan and al-Sukan neighborhoods of Aleppo.
Aleppo has been divided between the government forces and militants since 2012, a year after the conflict broke out in the Arab country.
The attacks happened during a unilateral 72-hour ceasefire declared by the Syrian army on the occasion of Eid al-Fitr, which marks the end of the holy Muslim fasting month of Ramadan.
In order to continue their support for the militants fighting to topple the Syrian government on the backdrop of the undeniable atrocities committed by terrorists like Daesh, the Western governments and their regional allies have classified several militant groups in Syria as "moderates."
In the letter, Syria stressed that the attacks carried out by "moderate opposition groups" show the depth of hypocrisy of Western countries claiming to be fighting terrorism in the country, and are evidence of the lack of seriousness of countries such as France, Britain, and the US in battling terrorism.
Syria has been gripped by foreign-sponsored militancy since March 2011. UN Special Envoy for Syria Staffan de Mistura estimates that over 400,000 people have been killed in the conflict.