Middle East
German, French special forces in Syria 'an aggression'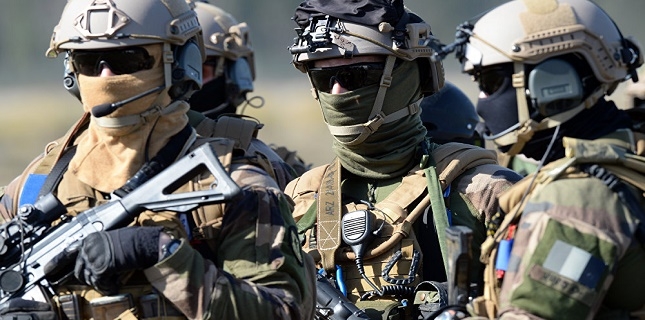 The Syrian government says French and German forces are present in northern Syria, condemning it as an act of "aggression."
The Syrian Foreign Ministry said on Wednesday French and German forces are deployed to Ain al-Arab, also known as Kobani, and Manbij alongside US military personnel.
"Syria … considers it explicit and unjustified aggression towards its sovereignty and independence," the official SANA news agency quoted the ministry as saying.
Foreign forces are aiding Syria Democratic Forces (SDF) near Manbij and Syrian Kurdish YPG militia, part of the SDF, in Ain al-Arab, characterizing the aid as part of an offensive against Daesh.
The ministry said any side "wishing to fight against terrorists must coordinate its moves with the legitimate Syrian government, whose army and people are fighting terrorism" across the country.
"Such presence under the pretext of fighting terrorism cannot elude any one," it added.
The Britain-based Syrian Observatory for Human Rights said French special forces were building a base for themselves near Ain al-Arab.
France's defense minister said last week that there were also special forces operating in Syria helping the SDF advance towards Manbij.
Berlin, however, was quick to deny the presence of German special forces in Syria.
"There are no German special forces in Syria. The accusation is false," a spokesman at the Germany's Defense Ministry said.
The Observatory, however, said German, French and American military advisers, and French and American special forces, were assisting the SDF.
Their presence has raised growing suspicion that the US and Europe are assisting a Kurdish campaign to establish a separate state in Syria.
On Tuesday, Prime Minister Binali Yildirim said Turkey would not allow cooperation with terrorist organizations in Syria, referring to Kurdish groups which the US supports.
Ankara and Washington have long been at loggerheads over the role of the US-backed Syrian Kurdish militia.
Turkey says the fighters are a terrorist organization affiliated with the outlawed Kurdistan Workers Party (PKK) but the US sees them as a partner in Syria operations.
In a speech to his ruling AK Party in parliament, Yildirim said Turkey won't allow formation of new states in Syria.
Syria is currently fighting foreign-backed militants such as Daesh and al-Qaeda-linked Nusra Front on several fronts, including in Aleppo which borders Turkey.
On Wednesday, the Syrian Observatory for Human Rights said fierce battles between government forces and Takfiri terrorists in Aleppo had left 70 fatalities in less than 24 hours.
The monitor said Syrian forces retook the villages of Zaytan and Khalasa to the southwest of the Aleppo city after losing control of them hours earlier.
The area overlooks the government supply road around the south of Aleppo, linking government-held Nayrab airport to the city's southeast and areas controlled by government forces to its west.
The Syrian daily al-Watan said Russian fighter jets resumed their missions in Aleppo, targeting positions of al-Nusra Front and allied forces on Wednesday.
Moscow launched airstrikes against Daesh and other terrorist groups in Syria on September 30 upon a request from the Damascus government.