Middle East
Assad puts base stone of housing project in Damascus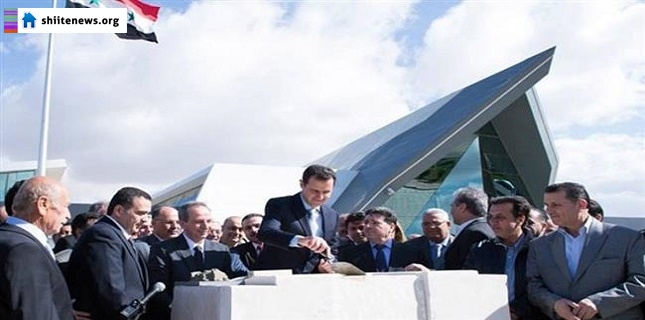 Syrian President Bashar al-Assad has laid the foundation stone of a housing project in the capital, Damascus, in a move symbolizing the war-ravaged country's reconstruction and development efforts.
On Thursday, Assad attended a ceremony in Damascus' Mezzeh district, where he placed the base stone of Project 66 to regulate al-Razi housing area.
"We talk about construction in a country where huge destruction took place so this is a strong will … That's why this is an important strategic project and the obstacles we faced in Damascus should be a lesson for other cities," Assad said.
During his visit, the Syrian president was also shown a video illustrating the area to be regulated, the stages of implementation and the temporary and permanent job opportunities that the project would provide.
Assad was also briefed by the employees on the project.
He also talked to a number of citizens benefiting from the project and listened to complaints about the course and speed of the project implementation.
The project, which covers some 2.149 million square meters, includes 12,000 residency units and can accommodate approximately 60,000 people. It provides 110,000 employment opportunities and 27.000 permanent jobs.
The area will include parks, water areas and commercial, investment and administrative buildings.
Syria has been grappling with a foreign-backed militancy since March 2011. More than 470,000 people have been killed in the turmoil, according to a February report by the Syrian Center for Policy Research.
The war has also taken a heavy toll on the Arab country's infrastructure.