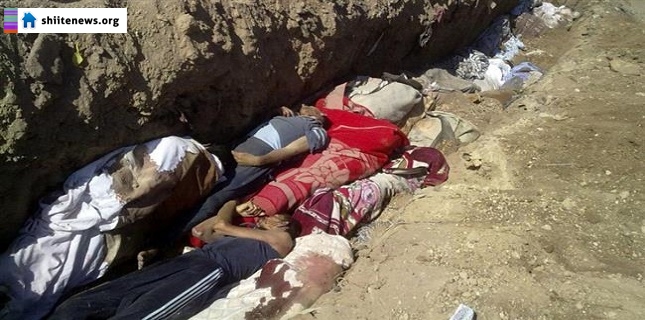 Security authorities in Syria say locals have found a new mass grave in the country's embattled eastern province of Dayr al-Zawr, which is believed to be containing the remains of tens of people executed by Takfiri Daesh terrorists.
The residents uncovered the grave on the outskirts of Marat Village, located more than 450 kilometers (280 miles) northeast of the capital, Damascus, on Sunday, Syria's official news agency SANA reported.
The source said that the mass grave is thought to contain the remains of more than 100 civilians, among them children, who were killed by Daesh when Marat fell several months ago.
Three mass graves had been found in the village of Abu Hamam in the same Syrian province a month ago.
"The dead bodies found in the mass graves are believed to belong to members of the Shaitat tribe, who were massacred by Daesh terrorists," a Syrian lawyer said back then.
Daesh extremists had earlier executed more than 700 members of the Shaitat tribe in Dayr al-Zawr over opposition to the terrorist group's control over the province. Several mass graves have been discovered in the eastern Syrian province over the past few months, most of the victims were identified as members of the al-Shaitat tribe.
Meanwhile, Syrian fighter jets carried out airstrikes against Daesh positions in al-Husseiniyah Village, which is located in the western part of Dayr al-Zawr Province, on Sunday, killing a number of the Takfiris and destroying their vehicles.
Several Daesh hideouts and pickup trucks, some with heavy machine guns mounted on them, were also destroyed in army airstrikes against Mari'aieh Village. A number of Daesh terrorists were also killed in an army offensive on the al-Sheikh Yaseen neighborhood of Dayr al-Zawr city.
An unnamed military source said 71 Daesh terrorists were killed and 81 others injured as Daesh targets were hit in al-Hamidiyah, al-Aradi and al-Rushdiyah neighborhoods of Dayr al-Zawr. Senior commanders were among the slain militants.
Four more Daesh terrorists were killed in an army operation against their gathering place close to Dayr al-Zawr airport.
The foreign-sponsored conflict in Syria, which began in March 2011, has claimed the lives of some 470,000 people and left 1.9 million injured, according to the so-called Syrian Center for Policy Research.
Moreover, 6.36 million people have been displaced internally and more than four million others have fled the country since the beginning of the conflict. The total number of the displaced accounts for 45 percent of the country's population, which has shrunk by 21 percent.
Syria accuses Saudi Arabia, Turkey and Qatar of funding and arming terrorist groups operating inside the country, including Daesh.