Middle East
Sy. Army Repels ISIL Attack on Deir Ezzor Airport, Kills 40 terrorists in Hama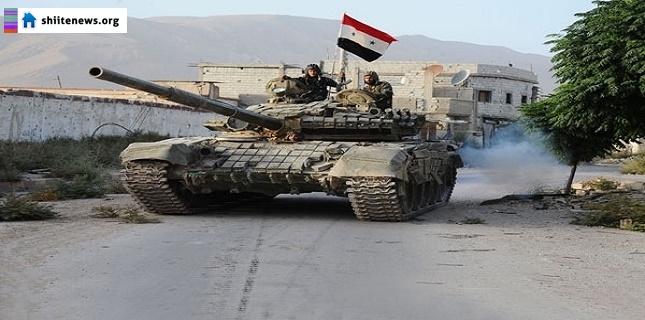 The terrorist organizations are losing many of their members, including 40 Jaish al-Fateh terrorists in Hama, and more of their equipment as the army operations against their positions continue.
Hama
The Syrian Air Force carried out during the last 24 hours intensive sorties targeting gatherings and sites of "Jaish al-Fateh" terrorists in the northern countryside of Hama.
A depot containing TOW and Grad rockets in addition to number of vehicles equipped with machine guns were destroyed and at least 40 terrorists were killed in the strikes.
Deir Ezzor
Army units confronted ISIL terrorists who tried to reach Deir Ezzor military airport's fence from the direction of Hweijet al-Mrei'iyeh in the eastern countryside of Deir Ezzor province, a source on the ground told SANA.
The army members managed to destroy two vehicles packed with large amounts of explosives which the terrorists used in their attack before they reached the fence.
One of the two car bombs was destroyed amidst a large gathering of terrorists, with all of them getting killed or injured, the source explained.
More ISIL terrorists were killed and their equipment was destroyed as the army hit their positions in the villages of al-Mrei'iyeh, Hweijet al-Mrei'iyeh and surrounding farms and al-Jafra.
Daraa
In southern Syria, an army unit destroyed vehicles, a fortified position and a heavy machinegun for terrorists in Daraa al-Mahatta area in Daraa city.
Members of a terrorist group were killed or injured during an army operation against their site in al-Manshiyeh neighborhood in the city, while a vehicle was destroyed in al-Abbassiyeh neighborhood in Daraa al-Balad area.
The army targeted a gathering of terrorists in the area between the villages of Sama al-Hneidat and al-Mleiha on the border between Daraa and Sweida.
Sources on the ground told SANA that an army unit destroyed with a rocket a launching pad for anti-tank missiles set up on a building in al-Yadouda town in Daraa northwestern countryside.