Middle East
Israel embassy in Egypt reopens after 4-year closure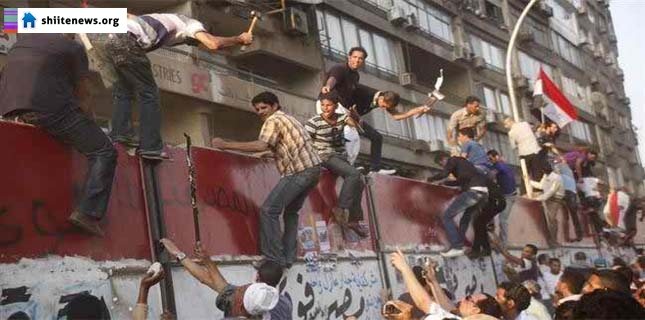 The Israeli regime's embassy in the Egyptian capital, Cairo, has reopened after a four-year closure due to security concerns.
Egypt "will always be the biggest and most important state in the region," the Israeli regime's foreign ministry director-general, Dore Gold, who flew to Cairo for the reopening ceremony, said on Wednesday.
The Israeli official added that the two sides were "working together" in "deflecting the threat" against them.
"This event taking place in Cairo is also the beginning of something new," the Israeli Foreign Ministry said in a statement regarding the event.
US Ambassador to Cairo Stephen Beecroft was among Israelis and Egyptians present at the event.
The embassy was closed on September 9, 2011, after thousands of protesters stormed the compound following the killing of six Egyptian policemen in August the same year by Israeli forces during cross-border operations on Egyptian soil in the Sinai Peninsula.
Improved ties
Egyptian President Abdel Fattah el-Sisi appointed an ambassador to Tel Aviv in June. This after a three-year lapse in diplomatic relations after the election in June 2012 of Mohamed Morsi, who recalled Cairo's last ambassador to Tel Aviv in protest to the Israeli regime's aggression against Palestinians in the besieged Gaza Strip.
The relations between Egypt and the Israeli regime have been growing since Sisi took power in the Arab country in 2014 after orchestrating a military coup against Morsi, Egypt's first democratically elected president, a year earlier.
Egypt recently launched a project to flood the area along its border with the Israeli-besieged territory of the Gaza Strip to destroy the underground lifeline tunnels linking Egypt to the Palestinian territory.
In mid-June, the Egyptian military said it had demolished nearly 1,430 underground tunnels in 18 months.
The Egyptian army claimed that the tunnels were "used by terrorists and criminals" to smuggle weapons to militants in the Sinai Peninsula. The World Food Program (WFP), however, said in a report in February 2014 that the tunnels have represented "the main supply and commercial trade route for goods into Gaza" since 2007.