Middle East
World strongly condemns Kuwaiti Shia mosque terror attack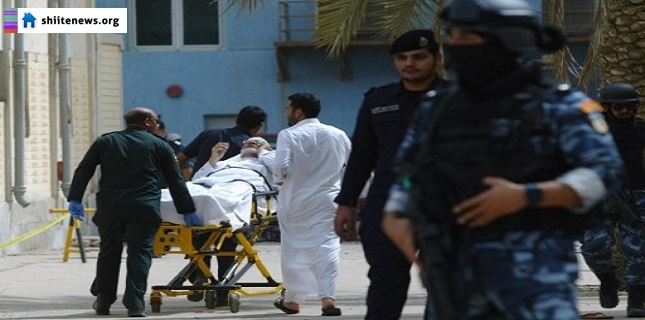 World states have strongly condemned the recent bomb attack at a Shia mosque in Kuwait, which claimed the lives of at least 27 people and left scores more wounded.
Russian President Vladimir Putin, in a statement released on Friday, offered his sincere condolences to the Persian Gulf kingdom's monarch Sheikh Sabah al-Ahmad al-Jaber Al-Sabah and the families of the victims over the deadly terrorist attack.
"The Russian head of state has strongly denounced terrorism in all of its manifestations and voiced support for the Kuwaiti leadership's and people's efforts to fight this threat," the statement read.
Lebanon's Prime Minister Tammam Salam also denounced the bomb blast. "This provides another example of how far murky minds could go in their dangerous destructive path," Salam said.
"All Lebanese are pained by the Kuwaiti bloodshed, and stand in full solidarity at this sad moment with Kuwait, its emir, government and people," he added.
Additionally, The Lebanese Hezbollah resistance movement released a statement on Friday to condemn the assault.
"Hezbollah condemns in the strongest terms the fresh crime committed by the gangs of brutality at Imam Sadiq Mosque in Kuwait. This marked the ugliest form of violation to the sanctity of this blessed month (Ramadan) and to one of Allah's homes," the movement said.
"This awful crime harms all Muslims, Sunnis and Shias in Kuwait, and stabs all the Muslims of the world regardless of their sects," the statement added.
Meanwhile, Egyptian President Abdel-Fattah el-Sisi censured the terrorist attack against the Shia mosque in Kuwait, underlining that Cairo rejects terrorism in all its forms.
Bahrain, Jordan and the (Persian) Gulf Cooperation Council also condemned the bombing in similar statements.
At least 27 people lost their lives and 227 others sustained injuries on Friday, when an explosion ripped through Imam Sadiq Mosque in al-Sawabir, a busy residential and shopping district of Kuwait City.
A bomber reportedly blew himself up in the mosque where worshippers had gathered for Friday prayers.
Later in the day, the Takfiri ISIL terrorist group claimed responsibility for the attack.