Middle East
Erdogan says Israel a 'terrorist state' that seeks 'total destruction' of Gaza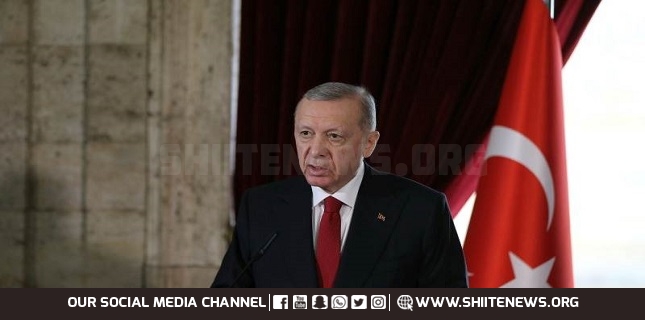 Turkish President Recep Tayyip Erdogan has blasted Israel as a "terrorist state" that seeks the "full destruction" of the densely-populated Gaza Strip, which has been under massive bombardment for over five weeks.
Speaking to Turkey's legislators in parliament on Wednesday, Erdogan said that Israel is guilty of committing the worst attack on women and children "in all of history," insisting that it is committing war crimes and violating international law in the war-torn Palestinian enclave.
"I clearly say here: Israel is a terrorist state," he said in his parliamentary address, calling upon Israeli Prime Minister Benjamin Netanyahu to declare the occupying regime's nuclear arsenal.
"You are threatening with an atomic bomb, a nuclear bomb. It does not matter what you have, you are a goner. Your end is nigh, anyway, whether you have nuclear weapons or not," Erdogan added, vowing that he would bring political and military leaders of the Tel Aviv regime to trial in international courts.
He also pledged that Ankara will be working on the international stage to ensure Israeli settlers are recognized as "terrorists" during growing violence by settlers against Palestinians in the occupied West Bank.
"We see Netanyahu flanked by ministers in his news conferences. He thinks these ministers will save him. Netanyahu is a goner" from his post, the Turkish president further said.
Israel launched the war on Gaza on October 7 after the Palestinian resistance movement Hamas waged the surprise Operation Al-Aqsa Storm against the occupying entity in response to the Israeli regime's decades-long suppression and devastation against Palestinians.
According to the Gaza-based health ministry, 11,500 Palestinians, including 4,630 children and 3,130 women, have been killed and more than 29,000 others injured in the Israeli strikes.
"The blood of the children killed in Gaza is now a stain of shame for those supplying weapons, munitions and intelligence to Israel. Every day, hundreds of children are killed by bombs, but no one, from the European Union to the United States, no one claiming to defend human rights says a single word.
"Israel slaughters journalists, along with their families, while they are covering Israel's massacres, but international media does not cover it," Erdogan added.
The Turkish president, who has been vocal in denouncing Israel's relentless strikes on Gaza, also reiterated that Hamas is not a "terrorist organization" but a political entity elected by the Palestinian people.
"Hamas is a political party. They participated in elections in Gaza and won. They are looking for what was stolen away by the United States and Israel," he said.
Ankara and Tel Aviv had restored their diplomatic ties only recently, but the current war has deteriorated their bilateral relations significantly.