Middle East
Heads of Arab political parties meet President Assad, express solidarity with Syria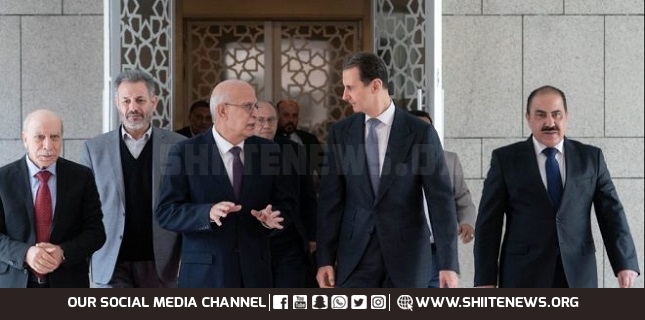 Syrian President Bashar al-Assad has received heads of Arab political parties who arrived in Damascus to hold an emergency meeting of the General Conference of Arab Parties.
Assad said there is currently an opportunity for political parties to take action to resist the siege imposed on the countries they represent, underlining the importance of dialogue in expanding the conference to include various political movements and forces.
During the meeting, head of the conference, Kassem Saleh, expressed solidarity with Syrians affected by the earthquakes.
Members of the delegation also called for an end to the occupation of Syrian territories, lifting of US economic siege and activation of joint Arab action to confront current challenges and crises.
Representatives of parties then held the 63rd emergency meeting of the conference. They underlined the importance of respecting Syria's sovereignty and unity and rejected unilateral economic sanctions against Syria. They asserted that resistance has prevented the implementation of a colonial plot in the region that was aimed at eliminating the Palestinian cause and defeating Syria.
Participants rejected all forms of normalization with Israel. They welcomed the restoration of diplomatic relations between Iran and Saudi Arabia, stressing that it would greatly help solve regional problems.
The conference is being held at a time Syrians are extremely suffering from the repercussions of a foreign-backed militancy, unilateral sanctions, and most recently the devastating earthquake. It's a wake-up call for the international community to take urgent actions and help resolve Syria's dilemmas.