Middle East
Erdogan says detente with Syria possible even as he beats drums of war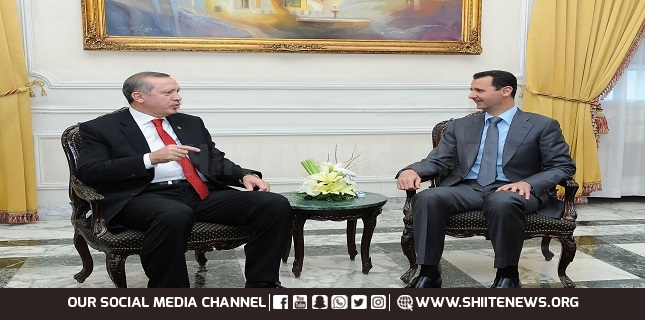 At the same time as he beats the drums of war on Syria, Turkey's President Recep Tayyip Erdogan says normalization of relations with the Arab country is possible.
"Just as relations between [Turkey] and Egypt take shape, ties with Syria can follow the same path in the next period," Erdogan said on Sunday.
He was referring to an ongoing normalization process between Turkey and Egypt, which saw Erdogan meet with his Egyptian counterpart Abdel Fattah el-Sisi at the World Cup in Doha last Sunday. Ankara severed its ties with Cairo in 2013 in protest at the latter's bloody crackdown on the followers of late Egyptian president Mohammed Morsi.
"There is no room for hard feelings in politics," Erdogan also alleged.
The Turkish presidency's spokesman Ibrahim Kalin said last month that Russia had offered to mediate a meeting between Erdogan and Syrian President Bashar Assad.
Erdogan said earlier in the month that Ankara would consider the proposal in due time.
Turkey cut off its relations with Syria in March 2012, a year after the Arab country found itself in the grip of rampant and hugely deadly violence waged by foreign-backed militants and terrorists, including those allegedly supported by Ankara.
Since 2016, Turkey has also conducted three major ground operations against United States-backed militants based in northern Syria.
The Turkish government accuses the militants, who are known as the People's Protection Units (YPG), of bearing ties with the Kurdistan Workers' Party terrorist group.
The PKK has been waging a separatist war against Turkey for decades. Ankara also accuses the group of being behind a terrorist attack that killed one person and injured 81 others in Istanbul earlier this month.
Last week, Turkey began launching a new round of illegal airstrikes against, what it calls, hideouts belonging to the PKK in northern Syria and Iraq.
Erdogan has, amid the escalation, been threatening on several occasions to order a fourth ground operation against Syria.