Middle East
Israel treats Takfiri terrorists wounded in Syrian conflict: American Newspaper Report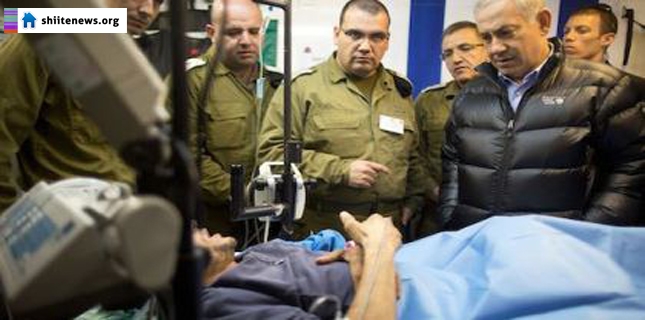 The Israeli regime provides medical assistance to Takfiri terrorists injured in the Syrian conflict, a new report by American Newspaper The Wall Street Journal says.
According to the report which was published on Thursday, the Tel Aviv regime allows the injured Takfiri militants to cross the Syrian border into the occupied territories and receive treatment in Israeli hospitals.
An unnamed military official confirmed the report, saying that most of the wounded terrorists belong to the al-Qaeda-linked al-Nusra Front which is launching operations against Syria's legitimate government.
"We don't ask who they are, we don't do any screening… Once the treatment is done, we take them back to the border and they go on their way," he stated.
The report cited the former chief of Israel's military intelligence who implicitly admitted that the regime is cooperating with Takfiris active in Syria.
The Takfiri terrorists "who control some two-thirds to 90% of the border on the Golan aren't attacking Israel. This gives you some basis to think that they understand who is their real enemy—maybe it isn't Israel," said Amos Yadlin.
Another unnamed Israeli military official also confirmed the existence of "tactical understanding" and "familiarity" between Israel and Takfiri elements.
"There is an understanding and there is a familiarity of the forces on the ground. I wouldn't go the extent of calling it coordination. It is extremely tactical," he pointed out.
This is while the Tel Aviv regime had repeatedly stressed that it would not interfere in the Syrian conflict.
Earlier in the month, Press TV obtained photos (shown below) of Takfiri terrorists from the al-Nusra Front standing next to the Israeli soldiers in the Golan Heights, further proving Tel Aviv's support for Takfiri militants.
Back in January, Syrian President Bashar al-Assad said the Israeli military is obviously supporting terrorist groups in Syria by conducting airstrikes in the crisis-hit country.
"Whenever we make advances in some place, they (the Israelis) attack in order to undermine the army. It's very clear," Assad stated.
"Some in Syria joke: "How can you say that al-Qaeda doesn't have an air force? They have the Israeli air force," he added.
Also in February, reports revealed that Mendi Safadi, who served as former Likud Deputy Minister Ayoub Kara's chief of staff, had met with members of the militant groups from Syria in Bulgaria and later on relayed their messages to Israel's Prime Minister Benjamin Netanyahu.
Safadi also stated that around 2,000 militants from Syria had been treated by Israel.
Syria has been grappling with a deadly crisis since March 2011. The violence fueled by Takfiri groups has so far claimed the lives of over 210,000 people, according to reports. New figures show that over 76,000 people, including thousands of children, lost their lives in Syria last year.
Over 7.2 million Syrians have reportedly become internally displaced due to the ongoing crisis.
The Takfiri terrorist groups, with members from several Western countries, control swathes of land in Syria and Iraq, and have been carrying out horrific acts of violence such as public decapitations and crucifixions against all communities such as Shias, Sunnis, Kurds, and Christians.