Middle East
Rocket attacks target US military bases in Iraq and Syria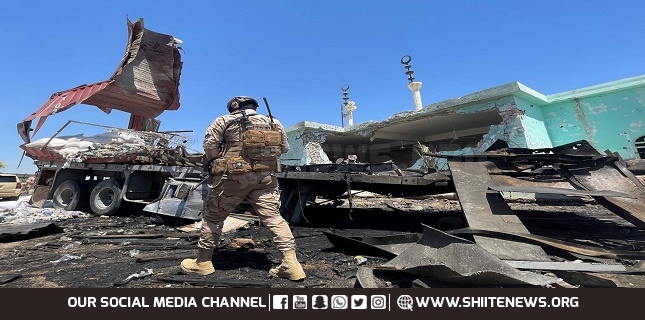 Series of Katyusha rockets hit military bases hosting US forces near Baghdad's international airport and in Syria on Wednesday, informed sources said.
An Iraqi military statement said it found a rocket launcher with one rocket in the al-Jihad district in western Baghdad near the airport.
Five rockets landed inside Iraq's Ain al-Asad airbase, which hosts the US and other international forces west of Baghdad, leaving no casualties, a coalition official told Reuters on Wednesday.
Iraqi army officials told Reuters the rounds fired were Katyusha rockets.
Iraqi security sources said there were no damage or casualties in both attacks.
The attacks came as millions of people in Iran and Iraq commemorated the second martyrdom anniversary of Iran's top anti-terror commander Lieutenant General Qassem Soleimani.
While there were no immediate claims of responsibility for recent attacks, Iraqi militia groups vowed to retaliate for killing Soleimani and Iraq's Popular Mobilization Units (PMU) deputy head commander Abu Mahdi al-Muhandis.
Wednesday's attack is the second one this week targeting the base near Baghdad's international airport.
Separately, the US-led coalition said its forces had been targeted with eight rounds at the Green Village in Syria over the past 24 hours and while there were no casualties, the attack did cause minor damage.
General Soleimani, the commander of the Quds Force of Iran's Islamic Revolution Guards Corps (IRGC), and Iraq's Popular Mobilization Units (PMU) deputy head Abu Mahdi al-Muhandis were assassinated along with their companions in a US drone strike authorized by former President Donald Trump near Baghdad International Airport on January 3, 2020.
Iranian President Ebrahim Raisi said on Monday that Trump must face trial for the killing or Tehran would take revenge.
General Soleimani and Abu Mahdi al-Muhandis were highly popular because of their key role in eliminating the US-backed ISIS terrorist group in the region, particularly in Iraq and Syria.
General Soleimani was assassinated by the US while he was in Baghdad at the official invitation of the Iraqi government.
Two days after the attack, Iraqi lawmakers approved a bill that requires the government to end the presence of all foreign military forces led by the US in the country.