Middle East
Syria: US presence is occupation, should be resisted by all means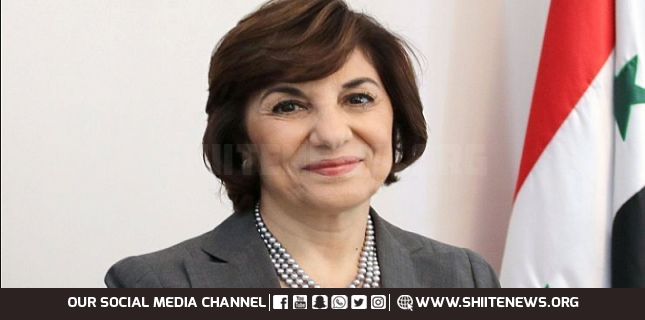 A senior aide to President Bashar al-Assad has stressed Syria's resolve to rid the entire Arab country of US troops and foreign-backed terrorists.
Speaking to a Chinese media outlet on Thursday, Bouthaina Shaaban, Assad's political and media adviser, said resistance will continue until all northeastern parts of the country occupied by US forces are liberated.
"Syria affirms that the US presence on its lands is an occupation which will be resisted by all possible means," she said.
Shaaban stressed that the US has been maintaining its presence on the Syrian soil to support terrorism and steal the resources of its people. She also called on Washington to end its plunder of Syria's natural resources.
The US military has stationed forces and equipment in northeastern Syria, claiming that the deployment is aimed at preventing the oilfields in the area from falling into the hands of Daesh terrorists. Damascus says the deployment is meant to plunder the country's resources.
Former US president Donald Trump admitted on more than one occasion that American forces were in Syria for its oil.
The US has deployed forces and military equipment in Syria without any authorization from Damascus or a UN mandate.
After failing to oust the Syrian government through proxies and direct involvement in the decade-long conflict, Shaaban said, the US government has stepped up its economic war on the Arab country.
She stressed that the sanctions imposed by the US amount to a flagrant violation of the human rights that cause large damage to the economic and living conditions of the Syrian people.
Last June, the US enacted the so-called Caesar Act that imposed the toughest sanctions ever on Syria with the purported aim of choking off revenue sources for the government.
The sanctions, however, have crippled the war-torn country's economy by prohibiting foreign companies from trading with Damascus.
The Syrian official said the US support for terrorist groups in Syria has completely revealed what is underneath "the gorgeous appearance of the American-style democracy and human rights". She also denounced the United States' plan to hold a so-called democracy summit, describing the initiative as one of the most odious projects.
She said those who steal the oil and wheat from the Syrian people have no right to talk about democracy.
"This summit is an expression of the bankruptcy of the US in leading the world, as this call has been based upon political criteria to interfere in the countries internal affairs."
The Syrian army has been fighting foreign-backed terrorist groups, which have been wreaking havoc on the country since 2011. Syrian soldiers, backed by the Russian air force and Iranian military advisers, have managed to win back control of almost all regions from Takfiri militants.