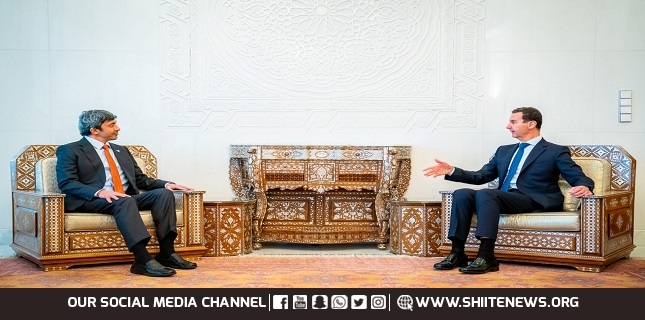 United Arab Emirates Foreign Minister Sheikh Abdullah bin Zayed met Syrian President Bashar Al Assad in Damascus and reviewed the prospects of enhancing bilateral relations between the two nations, according to a media report.
Syrian President Bashar Al-Assad received on Tuesday Minister of Foreign Affairs and International Cooperation of the United Arab Emirates, Sheikh Abdallah bin Zayed Al Nahyan.
Emphasizing the UAE's support for stabilization efforts in Syria, bin Zayed said that what happened in Syria affected all Arab countries, and that the UAE has always stood by the Syrian people.
UAE's Foreign Minister said that his country is confident that Syria, under the leadership of Bashar al-Assad, and the efforts of its people, is able to overcome the challenges imposed by the war, noting that his country is always ready to offer assistance to the Syrian people.
The Syrian President also emphasized the strengthening of fraternal and strong relations between Syria and the UAE and appreciated the realistic and correct stances adopted by the UAE.
Talks during the meeting dealt with bilateral relations between the two brotherly countries and the development of cooperation in various fields of common interest, in addition to intensifying the efforts to find new aspects for this cooperation, particularly in vital sectors to boost investment partnerships.
The discussions also tackled the situation in the Arab and regional areas. The two sides agreed to continue consultation and coordination about different issues and challenges that face the Arab region to achieve the aspirations of its people through their will, away from any external intervention.