Middle East
Syria condemns Turkish military aggression, stresses right to respond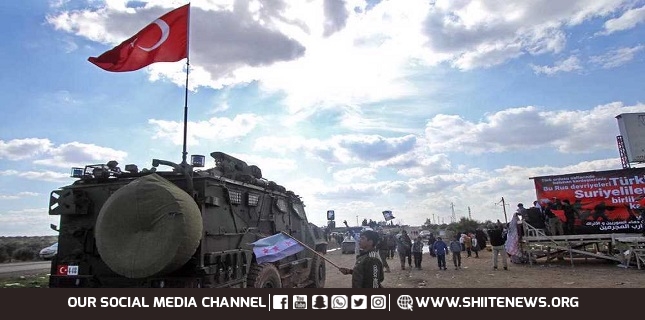 The Syrian Ministry of Foreign Affairs and Expatriates has strongly condemned the Turkish military's ongoing operations in the northern part of the country, stressing that the offensives are in blatant violation of the Arab nation's sovereignty and independence.
An unnamed official source in the ministry said on Monday that the operations are in line with the hostile policies that Turkey's ruling Justice and Development Party (AK Party) has been practicing against Syria ever since the latter was embroiled in foreign-sponsored militancy more than a decade ago, Syria's official news agency SANA reported.
He added that Syria calls on the UN Secretary General António Guterres and the Security Council to adopt a clear stance vis-à-vis the Ankara government's aggressive policies, as Security Council's resolutions reiterate respect for Syria's sovereignty, independence, and territorial integrity.
Syria reserves the right, in accordance with its constitution, principles of the international law and the UN Charter provisions, to respond to Turkey's aggression, put an end to the practice, and hold Ankara legally, politically and financially accountable to pay reparations for the damage it has incurred, the source noted.
Ankara-backed militants were deployed to northeastern Syria in October 2019 after Turkish military forces launched a long-threatened cross-border invasion in a declared attempt to push fighters of the Kurdish People's Protection Units (YPG) away from border areas.
Ankara views the US-backed YPG as a terrorist organization tied to the homegrown Kurdistan Workers' Party (PKK), which has been seeking an autonomous Kurdish region in Turkey since 1984.
The Kurdish-led administration in northeastern Syria says the Turkish offensive has killed hundreds of civilians, including dozens of children since it started.
Turkey has played a major role in supporting terrorists in Syria ever since a major foreign-backed insurgency overtook the country more than ten years ago.
While government troops are gradually regaining control over most of Syria, Turkey has instead sought to enlist the terrorists in its operations against Kurds in northern Syria.
Syrian President Bashar al-Assad and other senior officials have said the Damascus government will respond through all legitimate means available to the ongoing ground offensive by Turkish forces and allied Takfiri militants in the northern part of the war-battered Arab country.