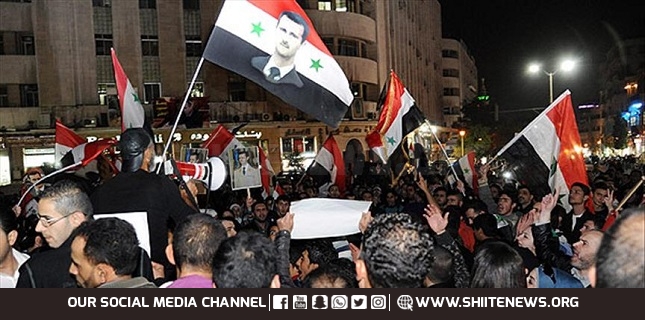 Hundreds of people have staged a rally in northern Syria to denounce the latest attack carried out by Turkish forces that claimed the lives of four civilians.
The protest took place in al-Hishah near the city of Ain Issa in the northern countryside of Raqqah Province on Thursday, a day after Turkish warplanes fired several rockets at residential buildings in al-Safawyia village on the outskirts of Ain Issa and killed four members of the same family, including a father and three of his children.
Other members of the family, namely a mother and a daughter, survived the attack, but were in a critical condition.
The so-called Syrian Observatory for Human Rights has blamed the Turkish forces and allied militants for the attack, saying the rockets were fired on a village controlled by Kurdish fighters near the border with Turkey.
The demonstrators on Thursday chanted slogans, condemning the massacre, Kurdish Hawar News Agency reported.
They carried banners that condemned the Turkish invasion as well as photos of the victims of the latest attack, and emphasized that the international community had the responsibility to put an end to the targeting of civilians.
According to Syria's official news agency SANA, Turkish forces have intensified attacks on residential buildings in areas in the northern countryside of Raqqah over the past days. They have been using heavy artillery, warplanes and drones. Casualties have also been reported.
Turkey views the US-backed People's Protection Units (YPG) in northern Syria as a terrorist organization tied to the homegrown Kurdistan Workers' Party (PKK), which has been seeking an autonomous Kurdish region in Turkey since 1984.
The country has sent military forces to northern Syria for the past years, despite strong protest from Damascus. Its declared aim has been to push Kurdish militants and Daesh terrorists away from Turkish borders.
On October 9, 2019, Turkish forces and Ankara-backed militants launched a cross-border invasion of northeastern Syria in an operation with the same declared objective.
Two weeks after the invasion began, Russia's President Vladimir Putin and Turkey's Recep Tayyip Erdogan signed a memorandum of understanding that asserted the YPG had to withdraw from the Turkish-controlled "safe zone" in northeastern Syria within 150 hours, after which Ankara and Moscow would run joint patrols around the area.
The patrols have come under repeated attacks by the militants ever since.