Middle East
Syrian troops kill Daesh terrorists attacking civilian, military buses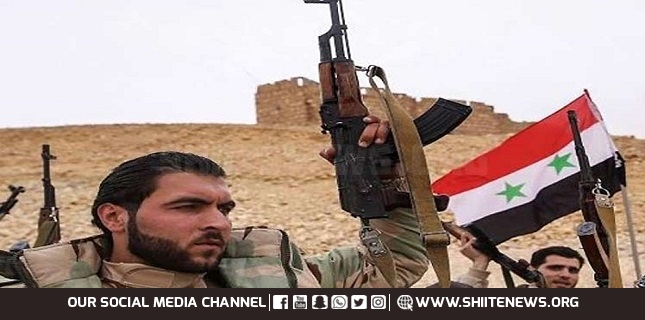 Syrian government forces have killed at least eight militants, who were involved in attacks on civilian and military buses in a desert area of the eastern province of Dayr al-Zawr, local media reports say.
Syria's official news agency SANA, citing a military statement, reported on Thursday that two pickup vehicles equipped with heavy machine-guns were destroyed and eight terrorists were killed in the recent offensive in the troubled area.
After a "precise" operation, the Syrian forces tracked down the "terrorist group" that had carried out attacks on civilians and military personnel on the road between Dayr al-Zawr and Palmyra city, it added.
"Our armed forces continue to hunt the remnants of terrorists in the area after they completely secured the international Dayr al-Zawr-Palmyra highway for the buses and citizens," SANA said.
The Daesh terrorist group had recently intensified attacks on the road, killing many soldiers and civilians.
Earlier this week, three soldiers were killed in a Daesh ambush in the desert. Last month, the Takfiri group killed over two dozen people in the same area.
Over the past several months, the US military has brought in hundreds of truckloads of munitions and logistical equipment to Dayr al-Zawr and Hasakah provinces through illegal border crossings with northern Iraq.
Syria has been gripped by foreign-backed militancy since March 2011. The Syrian government says the Israeli regime and its Western and regional allies are aiding the Takfiri terrorist groups that are wreaking havoc in the country.
The government forces have already managed to undo militant gains across the country and bring back almost all of Syrian soil under control.
Numerous accounts have emerged about US airlifts, weapon air-drops and aerial support for the Takfiri outfit, particularly after the group's strength diminished in Syria and Iraq.
Daesh has already been driven out of all its urban bastions both in Iraq and Syria, but its remnants carry out sporadic terror attacks in both countries.