Middle East
Father and Daughter Reunited on the Battle against ISIS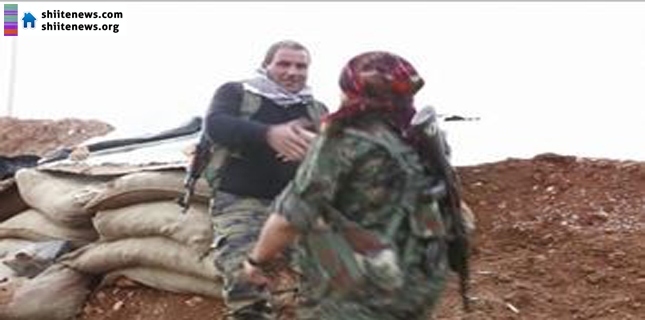 On the front lines of the battle to hold on to the Syrian border town of Kobani in the face of a prolonged ISIS group assault, Kurdish female fighters have been playing a major role.
Pervin Kobani is one of them. She is 19 years old and a farmer's daughter. Pervin is part of a team holding a front-line position that is under regular attack from the extremist fighters trying to take the town.
The ISIS group has declared a self-styled caliphate in areas under its control in Iraq and Syria, governing it according to its violent interpretation of law.
The group has carried out mass killings targeting government security forces, ethnic minorities and others who oppose it.
Pervin left home two years ago to take up arms with a newly formed Syrian Kurdish women's self-defence force, known by its Kurdish acronym YPJ.
The women YPJ fighters are now integrated with the men's units, the YPG, and form a significant portion – a quarter according to commanders on the ground – of the Kurdish forces involved in the siege defence.
The Kurds have been stubbornly defending the town since mid-September and have been helped by over 270 coalition airstrikes.
These airstrikes along with constant mortar exchanges, shell fire and IS suicide bombings have left a sizable part of the town in ruins.
Exclusive footage shot by video journalist Jacob Simkin, who spent a week inside Kobani, shows the extent of the destruction.
"All Kobani is important for IS , they want to take the city," said Pervin. "If we don't defend it well, they will enter. We cannot say they are only in the south. If there is no protection on two fronts, IS will enter the city. But we won't allow the terrorist groups in until the last drop of our blood."
Most fighting happens at night. The soldiers must man their positions throughout the night, and can only sleep during the day with a two-hour sentry watch.
Pervin says she doesn't harbour dreams beyond the present."I didn't really have any other ambitions. I just wanted to live a free life, as a woman, be able to see our reality, and have our rights and just live."
Kurdish men and women share the dangers at the front side by side. Asked if she has a boyfriend or plans to marry, Pervin says there's no time for such things in Kobani."We don't really express love. We say that we must save our love for Kurdistan and our martyrs."
After half a year serving away from her hometown, Pervin returned with the Kurdish forces two months ago to defend Kobani.
Three weeks ago she bumped into her father Farouk on a street corner. She was surprised to see him holding a gun. She didn't know that he too had decided to fight. She wishes more of the older generation would join up.
"My feeling at that time was very happy. Honestly, when I heard my father is fighting on the western front with the YPG I was so proud of him and it made me want to fight more," she said.
Farouk joined Kobani's defenders when IS launched their attack. His wife, Pervin's mother, is a refugee in Turkey; her only brother is studying in Algeria.
Farouk guards Kobani's western flank, while his daughter helps man the front line in the east of the city.
He was delighted to see her that day three weeks ago after months without news. He urges her to stay focused mentally to stay safe.
"I always say to her that when you get into a fight, just keep your mind on the fighting. When the fighting is over, love your friends and Kurdistan with all your heart."
And though they regard each other as comrades first, and family second, she hugs him like a father anyway.