Middle East
Damascus: Rasict US, not eligible to talk about human rights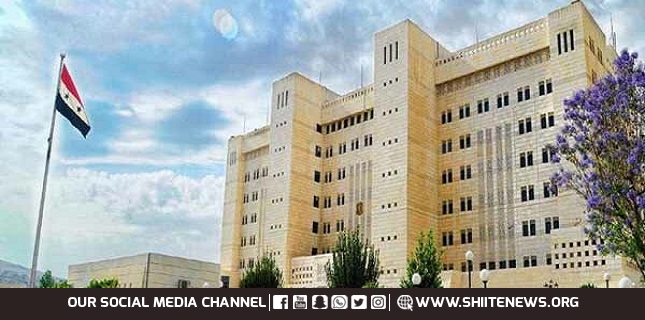 The Syrian Foreign Ministry in a statement said that the US, gone down to touch the behavior of gangs and highway robbers to murder its citizens, has practiced the ugliest form of racial discrimination and has not the right to talk about human rights.
In a statement on Wednesday, the Syrian Foreign Ministry said the so-called 'Caesar Act' indicates the US violation of human rights and international laws.
The Syrian Foreign Ministry asserted no one is deceived by the claims of the US president and government officials about supporting the Syrian people because their policies, which bring destruction and instability to serve the Israeli regime's interests in the region have been revealed.
"The US administration talking about human rights in Syria exceeds the ugliest forms of lies and hypocrisy as embodied in its policy of supporting terrorism that shed the blood of the Syrians and destroyed their achievements," the statement added.
The Syrian Foreign Ministry also stressed that the Syrian people, army, and government will stand up to US cruel actions, with the same determination to defeat the US-backed terrorist groups.
The US Secretary of State Mike Pompeo announced on Wednesday the start of sanctions against the Syrian government.
The US sanctions against Syria in the form of the so-called 'Caesar Act' targetted 39 Syrian officials and figures including President Bashar al-Assad and his wife.
By the virtue of the law, the US government wants to impose severe sanctions on Syrian institutions and individuals, putting them under pressure and harming Syria's allies as they are reconstructing the country.