Middle East
Syrians protest against presence of SDF in Hasakah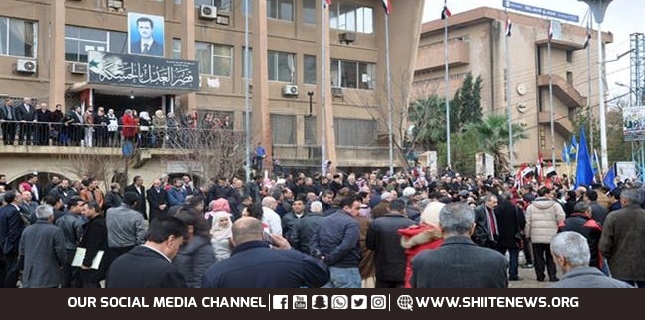 Syrian protesters have staged rally in Hasakah province on Friday to denounce the presence of the so-called Syrian Democratic Forces (SDF).
The demonstration took place near the town of al-Shaddadah, south of Hasakah, on Friday.
The Arabic service of Russia's Sputnik news agency reported that the demonstrators were residents of "al-Bajdali, al-Hariri and Al-Hana al-Sharqiyah villages from the al-Muhasen/al-Jabbour tribe in the al-Shaddadi countryside."
The protesters tried to reach Shaddadi, but the Kurdish forces, known as Asayish, blocked their way, according to the report.
They were angry about the killing of a young man and the wounding of several others by the SDF militants.
The demonstrators also called for the withdrawal of the US forces from the area and the return of the Syrian army.
On Thursday, al-Shaddadah was the scene of a similar protest against the SDF.
On Friday, Dr. Amin Ahteit, former Lebanese army general and specialist in military affairs said the US prevents Lebanon from acquiring air defense systems so that Israel can continue attacks on Syria using Lebanese airspace.
"The United States and its allies, especially Israel, prevent Lebanon from entering the world arms market, to purchase an air defense system, as well as American pressure on Lebanon, to prevent it from accepting Russian, Chinese and Iranian offers to provide it with an air defense system in order to keep the Lebanese airspace open to Israeli aggression," he told Sputnik Arabic radio.
Ahteit referred to Friday's Israeli airstrike on Syria's west-central Hama Province, saying the aerial assault was not the first time that the Tel Aviv regime used Lebanese airspace to bomb Syria.
"Since Syria was able to restore its air defense platforms, Israel used Lebanese airspace to launch its aggression against Syria. It has taken four air routes from the south and north, and two in the center targeting the Damascus region and its surroundings, the Homs region and its surroundings, as well as Hama and its surroundings," the military expert said.
"They (Israel) also targeted Aleppo, and this time there is a link in the series of successive Israeli aggression against Syria, using Lebanon as a passageway for its aircraft," he added.
Israel frequently attacks military targets inside Syria in what is considered as an attempt to prop up foreign-backed Takfiri terrorist groups that have been suffering heavy defeats against Syrian government forces.
The Damascus government has several times complained to the UN about Israel's illegal air raids on Syria.