Middle East
Trump blindly following Israeli schemes in West Asia: Assad's aide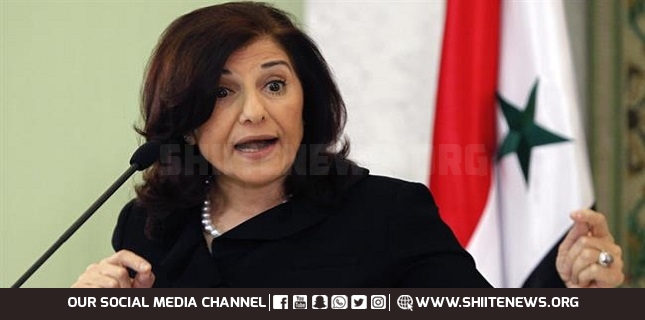 Donald Trump, the president of the United States, is blindly undertaking Israeli schemes in the region, says the political and media adviser to Syrian President Bashar al-Assad.
"We have reached a stage where Trump is blindly working to fulfill the wishes of Zionism. Zionism sought to deal a blow to the axis of resistance by assassinating the two fighters. However, it only consolidated the resistance front," Bouthaina Shaaban said in Damascus on Sunday, condemning the assassination of Iran's Lieutenant General Qassem Soleimani, the commander of the Quds Force of the Islamic Revolution Guards Corps (IRGC), and the second-in-command of the Iraqi Popular Mobilization Units (PMU), Abu Mahdi al-Muhandis.
She then cited a report published by the Israeli Haaretz daily that Trump had informed Israeli officials of his intention to assassinate Soleimani without consulting Congress. "We are facing an act which Trump perpetrated simply to serve the interests of Israel."
The assassination of Soleimani was shocking, the Syrian official said, emphasizing that its repercussions will not be confined to days and months, but will rather last long.
"America took an action that will have adverse effects on the US in all arenas. The United States proved itself to be a government that commits terrorist and criminal acts by the law of the jungle, and violates the constitution by skirting Congress," the high-ranking Syrian official said.
She also hailed a decision made by the Iraqi parliament concerning the withdrawal of US military forces from Iraq as well as Iran's precision firing of missiles at US bases in Iraq.
-Trump blindly following Israeli