Middle East
UN: 100,000 Left Homes in Northeast Syria Following Turkish Military Operation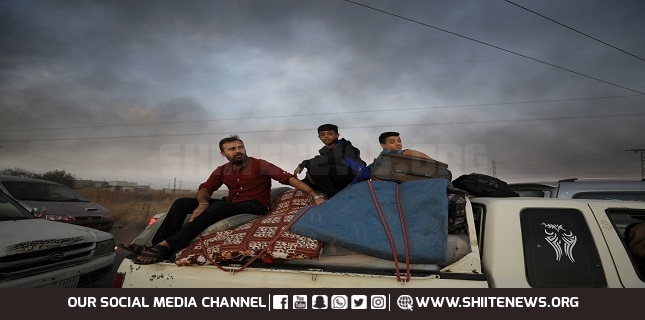 An estimated 100,000 people have fled their homes in Northeast Syria, the United Nations reported, as Turkey pressed on with its offensive against Kurdish fighters despite growing international criticism of the campaign and concerns it could result in ISIL (also known as ISIS or Daesh)'s resurgence.
"The humanitarian impact is already being felt. An estimated 100,000 people have already left their homes. Most are being sheltered in host communities but an increasing number of them are arriving at collective shelters in Al Hassakah City and Tal Tamer. Many are seeking refuge in schools," the UN announced in a statement.
Aid officials on Friday warned of "yet another humanitarian crisis" in war-torn Syria amid mass displacement and "disturbing reports" of attacks on civilian infrastructure, including water facilities, power stations and oil fields.
On Friday, the Kurdish-led administration announced the camps at Mabrouka and Ain Issa, which shelter thousands of people, had "not been immune from the dangers" of the Turkish offensive.
The medical charity Doctors Without Borders (MSF) also warned that the Turkish military campaign in Northeast Syria has displaced civilians and led to the closure of some main hospitals there.
"With healthcare services already struggling to meet the needs of the population, displacement and injuries caused by fighting are likely to put additional pressure on the existing limited resources in hospitals," Robert Onus, the MSF emergency manager for Syria, stated.
Shelling has forced a main MSF-supported hospital in the Syrian border town of Tel Abyad to close as most of the medical staff left the area with their families, the charity announced in a statement.
"As the only public hospital in the area, Tel Abyad hospital was critical to meeting the health needs of the town and surrounding areas," it added.
The Turkish Army and affiliated Syrian militants kicked off an offensive against Kurdish fighter on Wednesday with massive air and artillery strikes, followed by a land invasion dubbed 'Operation Peace Spring'. The Ankara military operation has so far killed hundreds and forced tens of thousands to flee.
Damascus has reiterated that Turkey and US military presence in Syria is illegal and any foreign troop in Syria is regarded as an occupying force and the Syrian government has the right to take all the needed measures to confront it.