Middle East
Syrian forces find Israeli-made weapons in ex-militant redoubt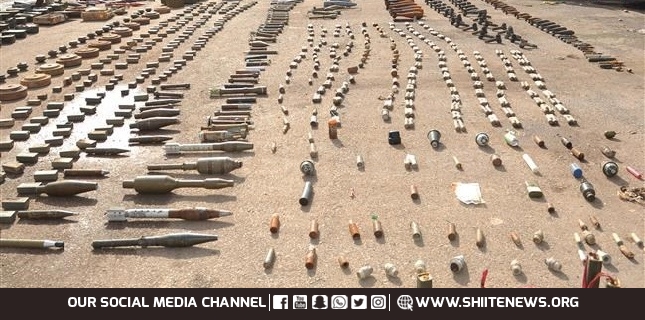 Syrian government forces have carried out a string of clean-up operations in Quneitra province, discovering a substantial amount of Israeli-made weapons and medical supplies from a former stronghold of foreign-backed Takfiri terrorists.
An unnamed military source told SANA that Syrian soldiers launched operations in the outskirts of Quneitra on Saturday to clear the area of hidden explosive devices and ordnance left behind by the militants.
The source added that the weapons included machine guns, anti-tank rocket-propelled grenade launchers and assault rifles besides telecommunication devices, food supplies and medicine.
Back in June, Syrian army soldiers discovered a substantial amount of munitions, some of them US-built, from a former militant position when they mounted operations on the outskirts of the town of Jubata al-Khashab in Quneitra province.
An unnamed military source said the weapons were hidden inside two underground tunnels dug by terrorists, which included artillery rounds, rockets, night-vision devices, American BGM-71 TOW anti-tank missiles as well as various types of machine guns.
Syria has been gripped by foreign-backed militancy since March 2011. The Syrian government says the Israeli regime and its Western and regional allies are aiding Takfiri terrorist groups that are wreaking havoc in the country.
-Israeli-made weapons