Lebonan
Israel in State of Alertness Because of… Imam Hussein Ensign! + PIC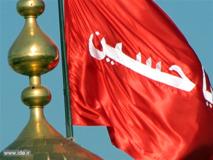 While showing the peace activists its "muscles" and claiming to be the strongest ever, the Israeli enemy finds itself unable to "hide" its state of alertness and panic whenever there's some activity in South Lebanon…
The Zionist entity was in a state of alertness and mobilization at the Lebanese-Palestinian border. Israeli soldiers were dispatching patrols while Zionist vehicles were moving all over the region separating the borders.
The Israeli state of alertness was, however, "justified": Hezbollah was raising the ensign of Imam Hussein (peace be upon him) in the southern town of Maroun Al-Rass.
From the highest point facing the Palestinian occupied territories, and specifically in Iran's park in Maroun Al-Rass town, the town that played a major role in the Israeli defeat in 2006, a group of the Islamic Resistance members raised the flag coming from the holy city of Karabala in Iraq.
The ceremony, which was unprecedented in the southern town, also came in support with the Freedom Flotilla convoy en route to free and end the siege on Gaza.
Hezbollah official in South Lebanon Sheikh Nabil Qaouk spoke during the ceremony and stressed that the Resistance party will not allow that Palestine is left alone in the era of resistance's victories, referring that betting on the US policies is misguiding a deceiving.
Sheikh Qaouk expressed belief that sixty-two years of occupation, and four years of blockade, is more than enough to reveal that betting on international community, international resolutions, and Arab conferences, is only an illusion. "The real bet is only on the resisting heroes in Maroun Al-Rass, Gaza, and all Palestine", Sheikh Qaouk emphasized.
The Hezbollah official, meanwhile, said Turkey was today more Arabic than most of the Arab countries. "Gaza is tired of all speeches, conferences, international and Arab resolutions, and it misses the will of the free and the resistance and martyrs", Sheikh Qaouk said.
According to Sheikh Qaouk, Hezbollah will always be in the lead of supporting Palestine and Gaza, "and whether they like it or not, Maroun Al Rass and Gaza will be the doors to liberation."
{gallery}/2010/06/Imam_Hussain_Tomb_Flag/{/gallery}