Lebonan
Shaykh Nabil Qawouq: Hezbollah protected Lebanon from Takfiri threat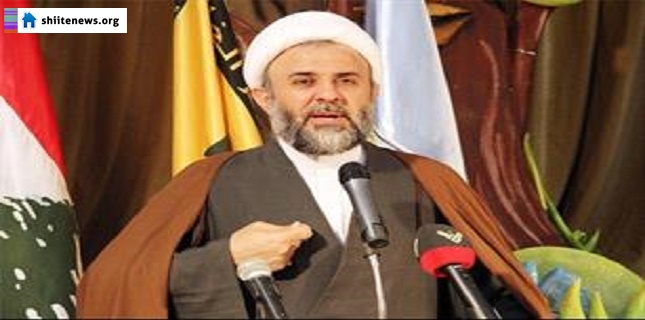 The Islamic Resistance was successful in protecting Lebanon from the Takfirist terrorist threat and prevented them from forming extending their so-called emirate into the country, Shaykh Nabil Qawouq, Speaking at a Muharram ceremony in the southern Lebanese town of Marwanieh.
Referring to Russia's recent airstrikes against Takfiri targets in Syria, His Eminence explained that Russia has understood the danger that the Takfiri phenomenon poses as they have previously fought them in Chechnya and added that Lebanon should realize this danger more than Russia because they are present within our borders and continue to occupy large areas in the hills of Arsal and Ras Baalbek.
The vice chairman of Hezbollah's Executive Council stressed that Hezbollah will remain on the battlefield to fight and confront all threats to Lebanon and will confront both the Zionist and the Takfirist threats.
In other part of his speech, Shaykh Qawouq said that due to the positions taken by the March 14 Alliance, this coalition of anti-Syrian parties is responsible for facilitating the spread of the Takfiris in the hills of Arsal and because they are dependent on the growth of Takfiri terrorist groups in Syria, they are working against the Lebanese national interests.
The senior Hezbollah official said that as a result of the actions taken by the March 14 Alliance they have done nothing to help resolve the political and economic crisis in Lebanon and due to their insistence on exclusivity, exclusion and domination, they have created new crises and problems which have only deepened the existing internal social and economic problems in the country.
Shaykh Qawouq stressed the March 14 Alliance has been exposed and we have seen from recent negotiations that they have rejected all solutions and political settlements which can bring an end to the crises facing the country because they want to defeat [former Prime Minister] Michel Aoun and oust him from the political arena.
"They want to take Lebanon into a dark new tunnel, but we do not need them, he said.