Iraq
11 Blast in Iraq Capital, More than 300 Casualties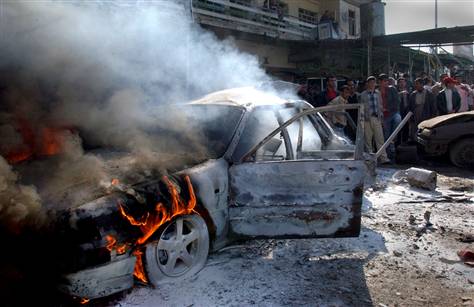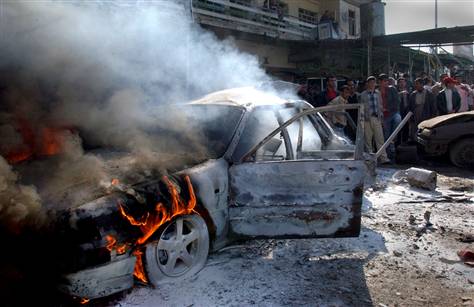 BAGHDAD: Rapid-fire bombings and mortar strikes in mostly Shia neighborhoods of Baghdad killed over 76 people and wounded more than 200 on Tuesday, calling into question the ability of Iraqi security forces to protect the capital.
The blasts _ at least 13 separate attacks _ came just two days after gunmen in Baghdad held a Christian congregation hostage in a siege that ended with 58 people dead. Tuesday morning, hundreds of Christians gathered at a downtown church to mourn their lost brethren.
"They murdered us today and on Sunday, they killed our brother, the Christians," said Hussein al-Saiedi, a 26-year-old resident of the Shia  slum of Sadr City where 21 people were killed in the most deadly incident of the day. He said he was talking to friends on a busy street, when the blast occurred.
"We were just standing on the street when we heard a loud noise, and then saw smoke and pieces of cars, falling from the sky," he said. People were fleeing the site in panic, frantically calling the names of their relatives and friends. "They (the government) say the situation is under control. Where is their control?"
There was no immediate claim of responsibility. But the coordination of the blasts, the complexity of the operation and the predominantly Shia targets point to al-Qaida insurgents.
The bombings began at about 6:15 p.m. The assailants used booby-trapped cars, roadside bombs, mortars and at least one suicide bomber on a motorcycle. Though most of the neighborhoods hit were Shia-dominated, a couple struck Sunni neighborhoods as well.
The attacks stretched from one side of Baghdad to the other and were spread out over hours, indicating a high degree of coordination and complexity from an insurgency that just a few months ago US and Iraqi officials were saying was all but defeated.
The casualty information all came from police and hospital officials who spoke on condition of anonymity because they were not authorized to speak to the media.
Earlier Tuesday, hundreds of grieving Christians and other Iraqis packed a funeral service for members of the faith killed in the militant siege on a Baghdad church.
The attack, which an al-Qaida-linked group claimed it carried out, left 58 people dead and dozens wounded.