Iraq
Millions stepping in Najaf for Haydari mourning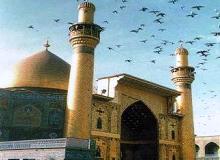 Iraq: Hundreds of thousands of mourners have been heading to the holy city of Najaf to commemorate the martyrdom anniversary of Al-Imam Ali Al-Murtazha (a.s), first infallible descendant of Prophet Muhammad (s), at his holy shrine.
Ramadan 21, the anniversary of martyrdom of Al-Imam Ali b. Abi Talib (as.), falls this year on Wednesday September 1 in Iraq, and according to officials the number of mourners to Najaf will reach to two million on Wednesday.
The government has announced holiday on Ramadan 21 marking the sad occasion in Najaf governorate.