Iraq
30,000 Security Personnel Deployed for Holy Karbala Pilgrimage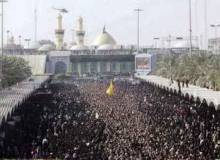 Holy KARBALA, Iraq: More than 30,000 security personnel were deployed in nine intersections of Karbala within preparations for the Shiite pilgrimage of al-Ziyara al-Shaabaniya, according to the province's police chief on Sunday.
"Some 30,000 fighters were deployed all over the province, in addition to 4,000 others in civvies and 5,000 from the Quick Response Department  (QRD), anti-riot police personnel and 2,000 policewomen for inspection purposes," Maj. General Ali Jassem al-Ghariri said in a press conference attended by Aswat al-Iraq news agency correspondents.
Meanwhile, the Karbala Operations Command (KOC) chief, General Othman al-Ghanimi, revealed during the press conference that intelligence reports referred to plans targeting pilgrims in Karbala from al-Anbar and northern Babel.
"Some reports also referred to the entrance of toxic substances in the drinks to be offered to the pilgrims," said General Ghanimi.
The al-Ziyara al-Shaabaniya, literally the mid-Shaaban visit, is a pilgrimage to revive the memory of the birth of the Messiah-like Imam al-Mahdi, the 12th holiest figure for Shiites Muslims.
Karbala, with an estimated population of 572,300 people in 2003, is the capital of the province and is considered to be one of Shiite Muslims' holiest cities.
The city, 110 km south of the Iraqi capital Baghdad, is one of Iraq's wealthiest, profiting both from religious visitors and agricultural produce, especially dates.
It is made up of two districts, "Old Karbala," the religious centre, and "New Karbala," the residential district containing Islamic schools and government buildings.
At the center of the old city is al-Masjid al-Husseini, the tomb of Imam Hussein Ibn Ali, grandsone of the Prophet Muhammad (pbut) by his daughter Fatima al-Zahraa and Ali Ibn Abi Taleb (pbut).
Imam Hussien's (AS) tomb is a place of pilgrimage for many Shia Muslims. On April 14, 2007, a car bomb exploded about 200 meters from the shrine, killing 47 and wounding over 150.