Iraq
Car Bomb Explosion Kills 30 in Iraq Near a Shia Masjid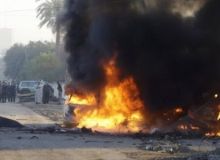 At least 30 people have been martyred and 46 others have been wounded in a car bomb explosion in the central Iraqi city of Baquba.
The explosion occurred near a mosque in the predominantly Shia neighborhood of Abu Sayeeda on Wednesday.
The strong blast also caused a building to collapse. Some reports, however, say that the explosion occurred near a crowded  market.
Police officials say women and children are among the victims of the explosion, adding that the casualties are expected to rise.
Police have cordoned off the area, arguing that more bombs could be planted in the area.
Wednesday's blast is the latest in a series of deadly attacks in Baquba in recent days. Seven people were killed and 21 others were wounded on Monday after a car bomb exploded in front of a coffee shop in the Iraqi city.
Seven people were also wounded in a bomb blast in Jadidat al-Shat district west of Baquba.
Analysts have warned that violence in the country may see a surge if the negotiations on forming a new coalition government continue to drag on.
The Iraqi government has been in limbo for more than four months since general elections were held. No single block has won an overall parliamentary majority. The two lists which won the most seats are still undecided on who the next Iraqi prime minister should be.