Iraq
Plan in holy Karbala to protect pilgrims to Baghdad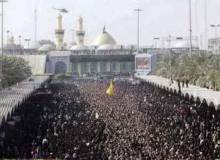 KARBALA, Iraq — The Karbala Police Command on Monday has implemented a security plan to protect pilgrims heading to Baghdad to attend a Shiite occasion.
"Thousands of security servicemen have been deployed to implement the plan," a local police source told Aswat al-Iraq news agency.
He noted that the plan has been implemented on the roads leading to Karbala from Najaf and Babel, to Baghdad.
The holy city of Karbala lies 110 km southwest of Baghdad.