Iraq
Iraq's Main Rivals Meet to End Government Row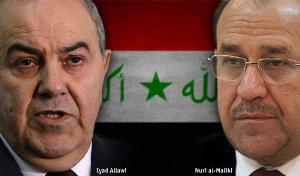 In their only second meeting since the March elections, Iraq's main Rivals incumbent Premier  Nuri al-Maliki and Former Premier Iyad Allawi met late Tuesday in a bid to end the more than three months of power vacuum.
A member of parliament from Maliki's State of Law alliance Hassan Sneid said there was "exchange in point of views, but he denied that there was a political deal behind it.
Sneid, who was present in the meeting, said that both Maliki and Allawi "expressed their wish to speed up the formation of a government before July 14," the deadline for parliament to hold its first session since MPs were sworn in earlier this month.
The pro-Maliki MP insisted that the head-to-head with Allawi was not an attempt to sideline either the Kurds or the INA (Iraqi National Alliance, a coalition led by Sayyed Ammar al-Hakim), with which the prime minister's list formed an uneasy parliamentary alliance in May.
"The meeting was not against our presence in the National Alliance or our relations with the Kurds," Sneid said.
A pro-Allawi MP Mayssun Damaluji said that the two rivals for the premiership had not gone into the nitty-gritty of sharing out political positions.
"The meeting did not discuss details about presidency or ministerial posts," Iraqiya MP Damaluji said.
US ambassador Christopher Hill said the hard bargaining between the two declared rivals remained at a "preliminary stage," but that he was encouraged both sides were talking to each other constructively.
"Obviously there is going to be a lot of bargaining and discussion about ministries," Hill told reporters.
"There are questions whether we have a presidency position which is changed," he added, referring to suggestions that the deadlock be resolved by giving more power to the presidency to take the sting out of the dispute over the currently far more powerful premiership.