Iraq
Maliki favorite for Iraqi Premiership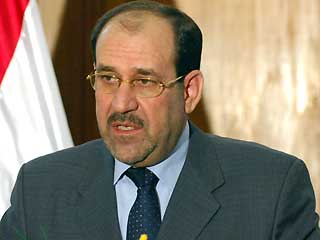 Though, Iraqi Prime Minister Nuri al-Maliki has failed to gain the four seats he needed to form a coalition government after a recount confirmed results from March elections were unchanged, officials said.
Maliki had alleged that fraud had deprived him of thousands of votes, but election commission official Saad al-Rawi said the recount showed "no change in the number of seats for any coalition in Baghdad, and in all of Iraq."
The results leave ex-premier Iyad Allawi's Iraqiya bloc in the lead, but Maliki remains in pole position to retain the top job, having formed a post-election coalition that leaves his bloc four seats short of government.
The conclusion of the Baghdad recount — Iraq's biggest province in which 68 seats were at stake — removes a major hurdle to the country forming its next government and paves the way to choosing its new leaders.
More than two months after nationwide polls, no group has yet assembled a parliamentary majority of 163 seats, with results that were initially expected a month ago delayed over accusations of tampering and fraud.
Rawi's account of the Baghdad recount was confirmed by another election official, Iyad al-Kinaani, and a third official who declined to be named.
The unchanged results mean that Iraqiya remains in first place with 91 seats, followed closely by Iraqi Shia Prime Minister Maliki's State of Law alliance with 89. The Iraqi National Alliance, led by Shiite religious groups, was third with 70.
State of Law and the Iraqi National Alliance announced earlier this month that they would form a coalition, leaving them four seats short of a parliamentary majority.
Sunday's announcement of the results came a day after Maliki took a key step toward staying in power when a top Shiite cleric said he would not keep the incumbent from keeping his job.
A spokesman for Moqtada al-Sadr, a radical, anti-US cleric who is currently living in Iran, told a foreign news agency the movement would drop a veto against Maliki seeking a new term as long as he met its condition that Sadrist prisoners be freed.
Sadr has previously opposed Maliki's quest to stay on as premier, and several public statements delivered by his aides have been highly critical of the incumbent.
But Saturday's conciliatory statement, which followed discussions between the two sides over the previous 72 hours, was a major boost to Maliki's chances, and effectively eliminated the biggest hurdle impeding his progress.
"If he will give us sufficient guarantees to end our reluctance, especially concerning the arrests of Sadrists, then we will not block his candidacy for a second term," Sadr spokesman Saleh al-Obeidi told the news agency from the Shiite holy city of Najaf in southern Iraq.
He cautioned, however, that Maliki had "not yet succeeded" in meeting the group's demand that around 2,000 of its followers, who were detained on the prime minister's orders, be released.
The Sadrist movement is part of the Iraqi National Alliance, but the cleric's political bloc had long despised the premier, who authorised an assault on its armed wing, the Mahdi Army, in 2008.