Iraq
ELECTION RECOUNT STARTS IN BAGHDAD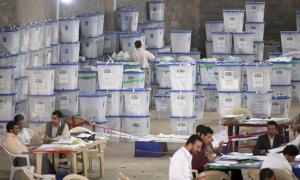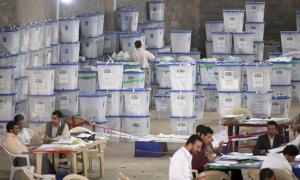 A manual recount of ballots cast in Baghdad during Iraq's recent parliamentary election got under way on Monday, with international observers in attendance.
According to the Shiite News Desk,The recount follows a successful appeal by Prime Minister Nuri al-Maliki, who alleged that he had lost votes because of violations at polling centers in Baghdad during the March 7 ballot.

"We will count 600 boxes today," Qassim al-Abbudi, an official with the Independent High Electoral Commission (IHEC), told reporters at the Rasheed hotel in the Iraqi capital where the recount is taking place.
 
The IHEC is recounting ballots cast at 11,000 polling stations in the capital at a rate of 800 to 1,000 stations a day, Reuters reported. The recount could take could take between 11 and 12 days.
Officials from the United Nations and US embassy are monitoring the recount.
Baghdad was by far the biggest prize in the election almost two months ago, with 70 seats on offer. The recount is one of a series of delays that has stopped a new government being formed.
Former premier Iyad Allawi's secular Iraqiya coalition won the election, defeating Maliki by 91 votes to 89, according to results still to be ratified by the Supreme Court.
Both need 163 seats to form a majority government but coalition talks with smaller parties appear to have stalled.
"We do not believe what is going on today is accurate work," said Oil Minister Hussain al-Shahristani, a member of Maliki's coalition who was appointed by the prime minister to oversee the recount for his bloc.
"The IHEC is insisting on not letting the results reflect the Iraqi voters' will," he asserted.
Maliki won the vote in Baghdad — taking 26 seats compared to Allawi's 24 — in what was the second national election in Iraq since the 2003 US-led invasion.
But the recount could lead to a wider winning margin for the premier in the capital, allowing him to eventually overturn his two-seat defeat nationally.