Iraq
Iraqi army recaptures key natural gas field from Daesh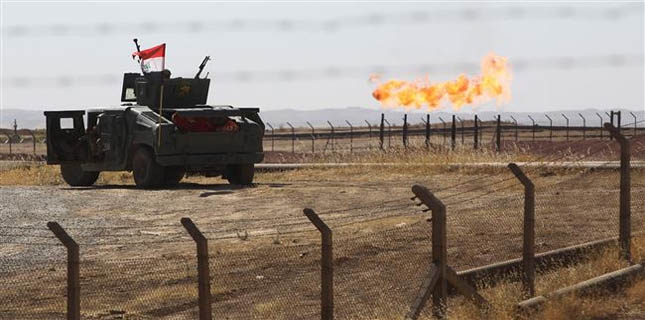 Iraqi government forces have managed to liberate a major natural gas field from Daesh Takfiri terrorists in the country's embattled western province of Anbar as they are battling to drive the extremists out of their last remaining strongholds in the crisis-hit Arab country.
Oil Minister Jabar al-Luaibi told reporters in the capital Baghdad on Thursday that army troops had captured the Akkas gas field, which produces natural gas and condensate.
The total proven reserves of the field are estimated to be around 5.6 trillion cubic feet, and production reportedly stands at around 400 million cubic feet per day. The field is operated by Korea Gas Company (KOGAS) and is located in western Anbar province near the Syrian border.
Development of Iraq's Akkas gas field stopped Daesh terrorists seized swathes of land in Anbar in May 2014.
KOGAS halted development operations following multiple attacks by terrorists against the company's sites in the field.
Iraqi oil ministry officials have said that they have plans to send a crew to Akkas gas field to assess damages to its energy production facilities.
"We will make a field visit to write a report about the damages and what we need to bring back the field online as soon as possible," said Mohammed Ibrahim, an engineer who is a member of an oil ministry team supervising Akkas.
According to Ibrahim, the Iraqi government has plans to contact KOGAS officials soon to resume development operations at the field.
"Security forces are working to clean Akkas from landmines and booby traps that might be left by Daesh," Colonel Saad Hardan from Anbar police was quoted by Reuters as saying.
Earlier in the day, Nuaman al-Zawbai, commander of the 7th Division of al-Jazeera Operations Command, said government troops were in control of 85 percent of al-Qa'im town, located nearly 400 kilometers northwest of Baghdad.
"The local government, in cooperation with security forces, has prepared a plan to repatriate families that have been displaced from western regions. Officials have accordingly started to vet the official documents of interested families in a bid to prevent terrorists from disguising among ordinary civilians," Zawbai pointed out.
Meanwhile, intelligence sources speaking on condition of anonymity, also told Arabic-language Shafaaq news agency that Iraqi Air Force fighter jets had targeted and destroyed a Daesh convoy.
The sources said the ten-vehicle convoy was destroyed on the outskirts of Qa'im as extremists were fleeing to Syria's eastern border city of al-Bukamal.
Among those killed was the self-proclaimed Daesh governor of Qa'im, identified by the nom de guerre, Abu Ahmed al-Iraqi.
Separately, Daesh terrorists executed two fellow militant commanders in al-Bukamal on charges of escaping battles in al-Ebeidi town.
Government troops managed to retake al-Ebeidi from Daesh terrorists on Tuesday, and raised the national Iraqi flag over a number of buildings there.
Late last month, Prime Minister Haider al-Abadi formally ordered the launch of operations to purge the towns of Rawah and Qa'im from Daesh terrorists.