Iraq
Iraq does not allow creation of ethnic govt. in country: Iraqi PM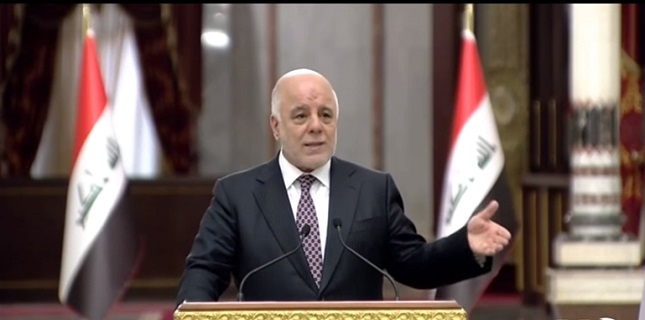 Iraqi Prime Minister Haider al-Abadi says Baghdad will not allow the creation of an "ethnic government" in the Arab country as the Iraqi Kurdish region prepares for a highly controversial planned referendum on its independence on Monday.
The Iraqi premier made the remarks in a televised address on Sunday, a day before the Kurdistan Regional Government (KRG), led by Massoud Barzani, is to hold a contentious plebiscite on independence of the semi-autonomous Kurdish region.
Abadi also vowed that the Iraqi leaders would not allow the Arab country to return to "dark times" of the past, promising that he would also take the "necessary measures" to protect the unity of Iraq.
"Taking a unilateral decision, which can affect the unity of Iraq and its security and the security of the region, through a referendum on separation, is unconstitutional and against civil peace. We will take the necessary measures to preserve the unity of the country," the Iraqi prime minister said.
Abadi also stated that Baghdad would not "abandon" the Kurdish citizens, saying, "Iraq will remain for all Iraqis. We will not allow it to become a possession of one or the other, and we will not permit anyone to play with Iraq and not pay the consequences."
The planned referendum has raised fears of a fresh conflict in the region, which is trying to emerge from years of a campaign of death and destruction by the Daesh Takfiri terrorists.
The international community and the regional countries alike are strongly opposed to the referendum, saying the partitioning of Iraq could touch off a fresh bout of violence across the region.
Abadi also criticized the Kurdish leaders for taking some 25 percent of the revenues that Iraq raises through exporting crude oil, saying they had not even paid salaries to employees and workers in the Kurdish region despite their hefty oil revenues.
The Iraqi prime minister added that Kurdistan's problems were mostly of a domestic nature and the situation in that region would deteriorate as a result of the wrong and unwise decisions of its leaders.