Iraq
Iraqi security forces find Daesh torture cells in western Tal Afar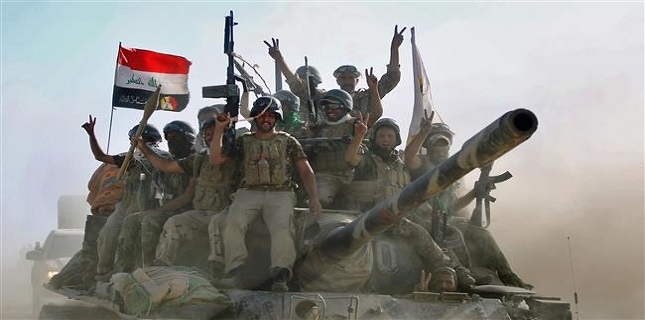 Iraqi security soldiers have discovered a detention facility in the western flank of Tal Afar, which members of the Daesh Takfiri terrorist group used to incarcerate people and subject the detainees to various forms of torture.
The Arabic-language al-Sumaria satellite television network reported on Monday that government forces had found the prison in the recently-liberated al-Saad neighborhood of the city, located 63 kilometers west of Mosul.
The building incorporated several rooms, where Daesh extremists apparently used to hold civilians in captivity and torment them.
Iraqi security forces could recover dozens of boxes of tablets in addition to narcotics from the site.
Daesh had installed a comprehensive CCTV surveillance system across the building for the principal purposes of keeping an eye on the movements of the detainees.
Meanwhile, the media bureau of Popular Mobilization Units, commonly known by the Arabic word Hashd al-Sha'abi, announced in a statement that soldiers from the 16th Division of the Iraqi Army had reclaimed control over Kharaj al-Asheq village southwest of al-'Ayadiya district, which lies 11 kilometers northwest of Tal Afar.
Separately, Kurdish authorities said on Monday that Iraqi troops had found and rescued three Izadi women, whom Daesh extremists had been holding captive in Tal Afar.
Hussein Qaidi, an official from the Office of Kidnapped and Rescued Izadis' Affairs in the northern Iraqi city of Dohuk, said those released were a 40-year-old woman and two teenage girls aged 14 and 19.
Additionally, the head of Nineveh provincial municipalities department, Abdel Qader Dakhil, told Arabic-language al-Ghad Press that "the scope of damage in Tal Afar is too little".
Dakhil added that municipal teams are awaiting military engineers to clear booby-trapped houses and defuse explosive devices so as to begin the reconstruction of Tal Afar.
On August 20, Iraqi Prime Minister Haider al-Abadi, also the commander-in-chief of Iraqi forces, declared the start of an operation to retake control of Tal Afar and nearby areas from Daesh terrorists.
Tal Afar is the last Daesh stronghold in Iraq's northern province of Nineveh.
Khaled al-Obaidi, the head of Nineveh provincial department of the Iraqi Ministry of Migration and Displacement, told al-Ghad Press news agency on Saturday that 10,000 people had fled Tal Afar to refugee camps south of Mosul.
Obaidi added that most of Tal Afar residents had fled towards Turkey, noting that many districts in the city had been deserted.